Busy day today....well not really, just lots of little things that all added up to kinda drive me into a tizzy.
First off, RAIN!  and more RAIN!
Which led me to throw on my old boots that are rather beat up and could use a good fixer-up at the cobbler (some new soles, a polish, etc.).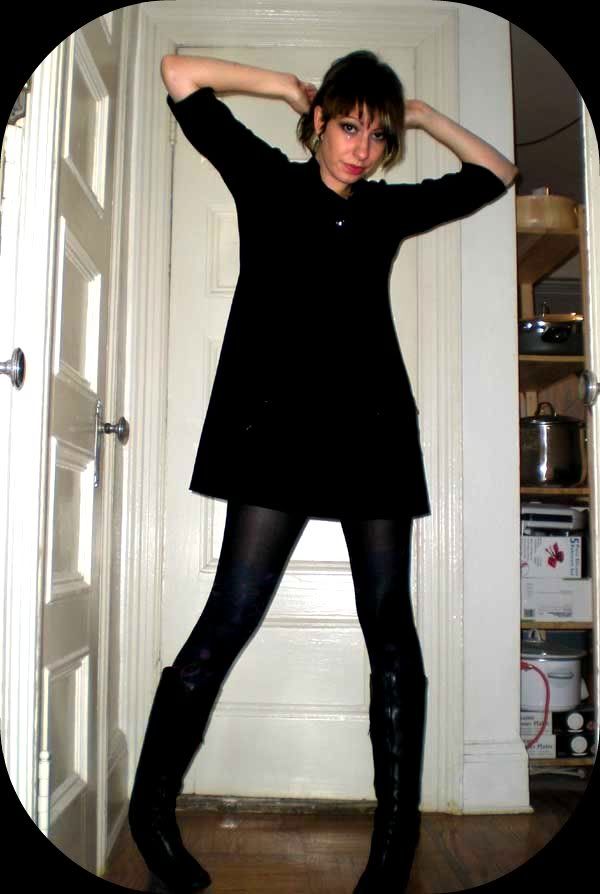 *Black tricot dress-Alberto Makali (IAM division)
*Printed opaque tights-HUE
*Black leather boots-Anne Klein
Secondly, my tights-love them as I may, the pattern stops so low on my leg that when lifting my arms I expose the sharp cut-off line where it goes from print to solid black.  True, maybe I could do without lifting my arms, but I'm like a little girl, something about short dresses makes me want to lift my arms. (Clearly I am in la-la land because what the heck does a short dress have to do with wanting to lift your arms? Hmmm....maybe it's a born instinct to lure in a lifelong mate?  um, probably not) Luckily this has yet to lead to over-exposure, so far just sharp breaks between print and solid.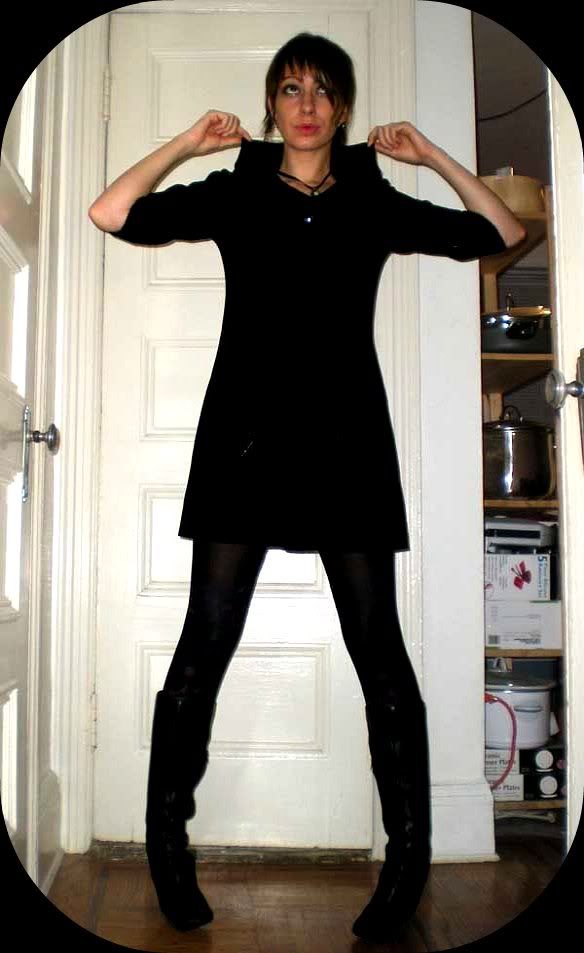 Third off, today I got my Doc Marten's.  While I do like them, I'm still a bit on the fence.  I have 30 days to decide-return them or not.  I have to give them a whirl with a few different key items in my wardrobe and then make my decision.  I would like to come to the conclusion before this weekend so I can wear them to Atlantic City as they are soooo very comfy and for once, a sensible pair of shoes.
However, I cannot help but feel:
A.) a bit "high school" in them.  I have such a vivid image of myself (wearing THE shoes of course), hanging out with the friends, listening to Smashing Pumpkins or something of the sort, and surely doing something our parents would not approve of.  
And anyway, why do I need a novelty pair of Docs when I'm going back to my parents' house for X-mas and I know that somewhere buried deep in my closet is my old classic pair circa 1997.
B.) a bit silly.  Docs take a little getting used to after a decade having not put them on your feet.  I mean there's the clown-ish look, or what I feel is goofy (you know, the larger toe area).  
C.) A bit too "grunge",  it just brings back all my combat boot/flannel lovin days of yore.  Seriously, I can't help but feel as if I should be meeting up with  
Angela and Rayanne
at some point to go fawn after
Jordan Catalano
(if you're too young to understand the "My So Called Life" reference....then maybe you're too young to understand me)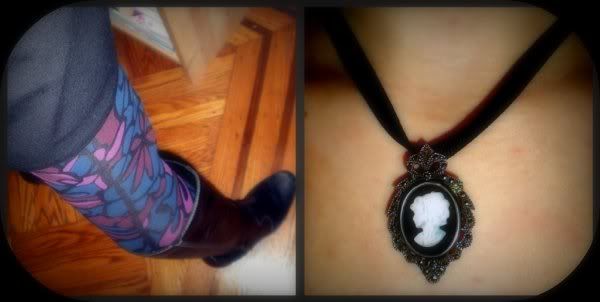 (oh and some accessories)
And Fourth thing to throw me into a crap mood, I got my halloween costume back from the tailors today.  And while I think it's pretty much as perfect as it could get, meaning the only thing I'm missing from the outfit is a red handbag, it was just the fact that I had to try it on yet again to make sure it was all ok.   And basically, if I didn't already elude to it before, it's not the most comfortable of costumes; NO WAY!  Turns out, I cannot even bend down, or bend my knees or anything to pick something up if it falls.  I'm also afraid to sit down.  I'm afraid that the seams are gonna bust.  Although, I assure you that will make for a great story if that's the case.
Hmmmmph!

So, is anyone freakin out about their costumes for this weekend?  
Is anyone just freakin out?
I can't wait to lose all my money at the roulette table--and sauce those casinos for all the free cocktails my little system can handle.  (although, true story--I've been known to do silly things when this occurs....such as falling asleep in a public restroom at Caesars last time I was in Atlantic City.  I keep trying to tell you guys--I'm a "class" act.)