A little Saturday Shopping anyone?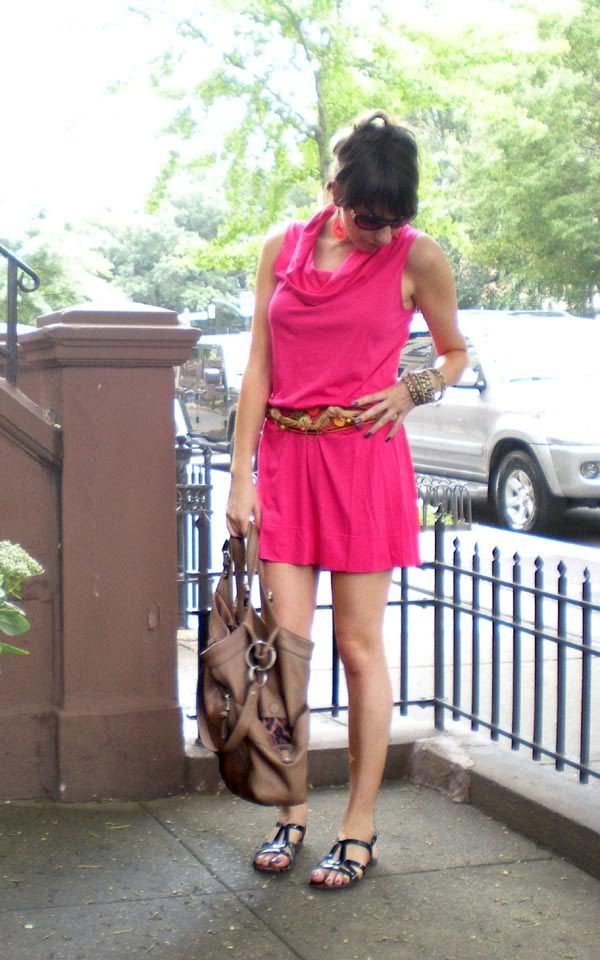 I went out to pick up some birthday goodies for my little niece; she turns 1 year old tomorrow!
I could very possibly be the World's Worst Auntie--I have to ship the presents as she lives in Illinois; but obviously they're not going to get there by tomorrow.  I'm banking on the fact that she'll be one, so she won't even no the difference if they come late or got there on time.
Birthday goodies include:
Maybe some Baby Einstein stuff, 
and books books and more books!
(I have smart, well advanced nieces, so feeding their minds with storytime is the best way to go, god knows they do not need more clothing)
The Shopping Outfit:
*Fuchsia t-shirt cowl neck dress-Express
*Beige vintage belt-some consignment shop in Kalamazoo
*Black patent-leather sandals-Old Navy
*Orange earrings-Forever 21
*Gold bangle bracelets-Forever 21
Holy Ravioli Batman!  Stop the Presses--yes,
those are FLATS I'm wearing!!! 
Unheard of!
Side note:  Kinda wishing I bought the LIGHT GOLD ones now, would've been a better match.
And seriously, could this belt be anymore perfect for jazzing up a basic dress?  I felt the need to interject color into the attire today, so I went all out!  I've come to terms with it being summertime for a few weeks more.  In my head, summertime equates to punchy colors of vibrant fun.  
Happy Saturday; is it true, tomorrow is already Sunday?  Crap...that means Laundry Day :(