And parties weren't meant to last....
(Quick, who sang that line?  Ummmmm maybe "THE PURPLE ONE"!  A.K.A. my little 5'2" cutie--PRINCE)
And I just so happened to choose the color purple for my IFB (Independent Fashion Bloggers) 
Dress-Up Soiree
party outfit.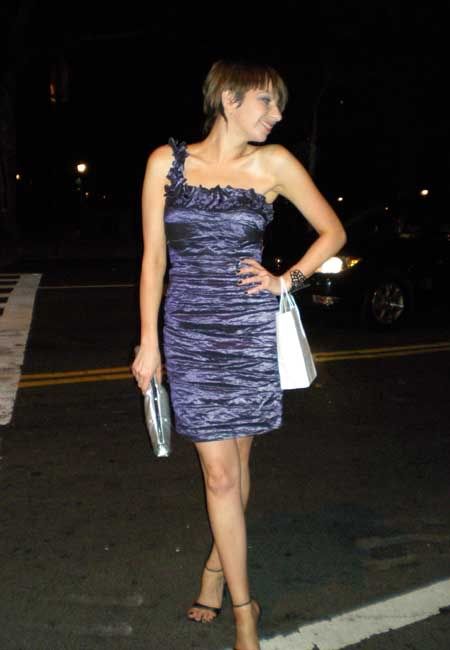 Wearing:
*

Purple metal taffeta cocktail dress-Alberto Makali
(of which I am the eveningwear designer)
*
Black satin sandals-Chinese Laundry
*
Silver faux leather clutch-Steve Madden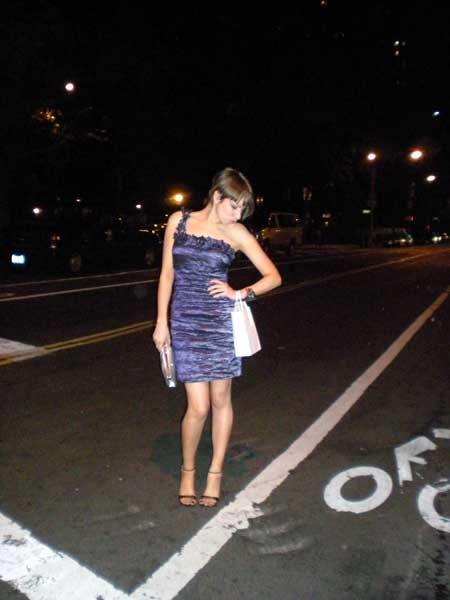 The night started out with a discussion panel of bloggers, computer techies, and helpful insight into the world of blogging with tips and pointers galore.  Too bad we didn't show up early, and
the line
prevented Mel and I from getting in and grabbing a seat.  Therefore we were stuck downstairs, just hearing mumbled words from the mezzanine where the panel held court.  In fact, the group downstairs was rather restless due to lack of audio, and can you believe it......we were "SHUSSSHED!", what is this--grade school?  
However, being downstairs had it's perks.   Afterall, I got to meet the below gaggle of girls:
Charise-
above
(forgive me if name spelling is incorrect) of
Purple*Bliss
(Mary by the way designed both of the dresses above....nice job!)
And while one of my newly found FAVE bloggers (and a fellow Hoosier--so how could I not like her?) was not there, I do have to give her a shout-out as she was projected on the big screen: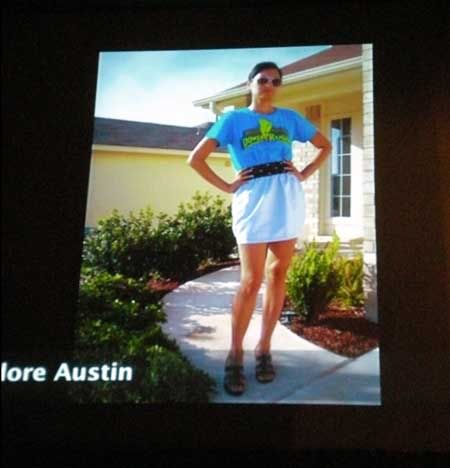 (

Side Note-this girl makes me laugh so much, her blog is so real, down-to-earth and hilarious

!

)
It was a quick night of meeting lots of fun fashion lovin' girls--whether they blog, design, or just came along for the swag (oh....I got a pot of my fave benefit lip gloss; SCORE!) whatever the case.  Good times, but I had to retire early.  
Never fear, this girl was back in party mode by Tuesday evening!
After a quick trip home from work, I washed up and threw on a bright-a$$ dress!
It was time for the
Chictopia/Forever 21 party
(also held at Broadway East, where I was at the same time the night before).
I took special pains to prepare my hair in such a fashion that from one side you'd think I chopped my hair into a 60s coif--afterall the dress' silhouette is somewhat reminiscent of 1960's minidresses, no?  (Regardless, this is what I felt and why I did my hair up just like so)
I also spent over 2 weeks deliberating on what dress I would wear.  The bright one won out in the end.  This is from my company's sportswear division, sadly I cannot take credit for this one's awesome design work.  No issues there, as long as I get to wear it!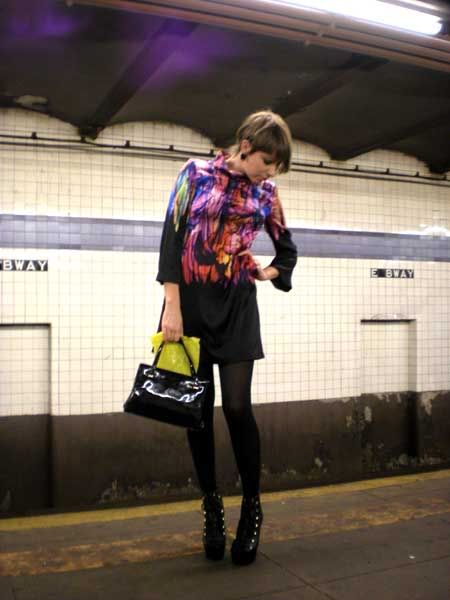 And the next bit of attire I need to mention are THE SHOES!  I rushed out Sunday afternoon in search of some new kicks to wear to this week's events.  I found nothing I had in mind....but when you have a coupon for $20 off anything, and in addition a stellar pair like these babies ring up at 30% off, that equates to a freakin $60+ savings!  I just adore these peep-toe booties and I plan to wear them till there's no more platform tread on them!  They're amazingly easy to walk in, no achy feet, and to my delight they allow me to tower above everyone (muah ah ah ah, just as I like it.)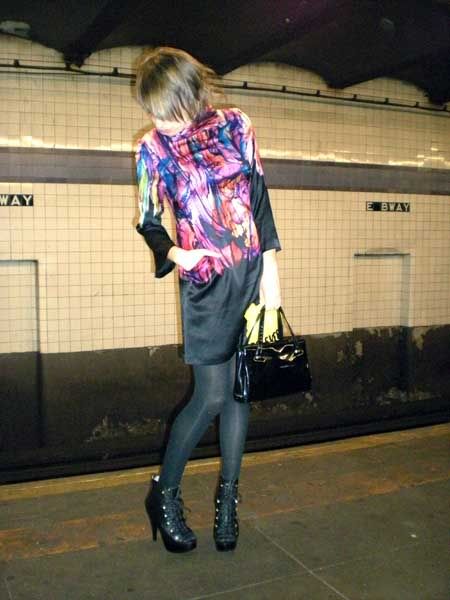 Wearing:
*

Black satin butterfly wing print dress-Alberto Makali
*

Black patent-leather vintage purse-Thrift Store
*

Black leather peep-toe booties-Steve Madden
While I wish more actual Chictopia members would've come out, it seemed as those most were there by some form of Forever 21 invite.  And therefore, I recognized only about 6-7 people at the whole event.  And at that, I only talked to about 4 of them--as I'm not that well known on Chictopia so no need to make a specatacle of myself.
Yet, I'm happy with the meetings I did have, it was rather nice to put an online face with an actual being.
Here I give you the fab girls I had the pleasure of speaking with:
Mel-
above,
of
Idee_geniale
glory (of course, who else do you think I would've gone with?)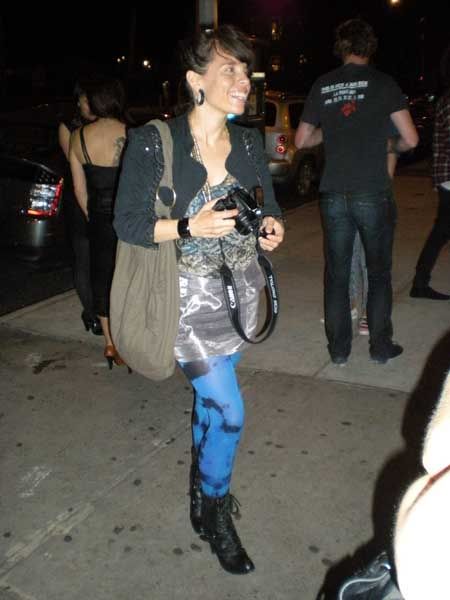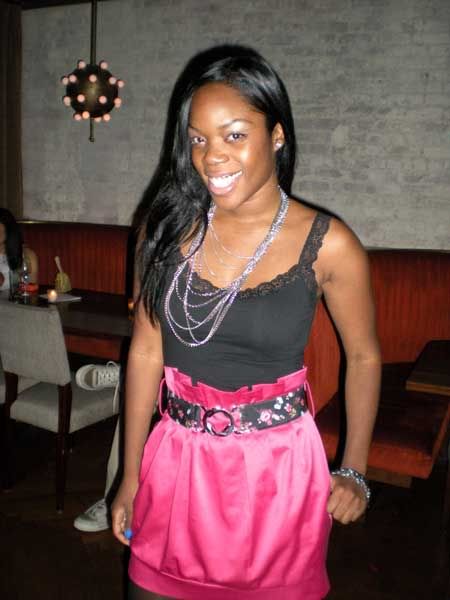 Kelly-
above
(A.K.A.
msthang77
on Chictopia)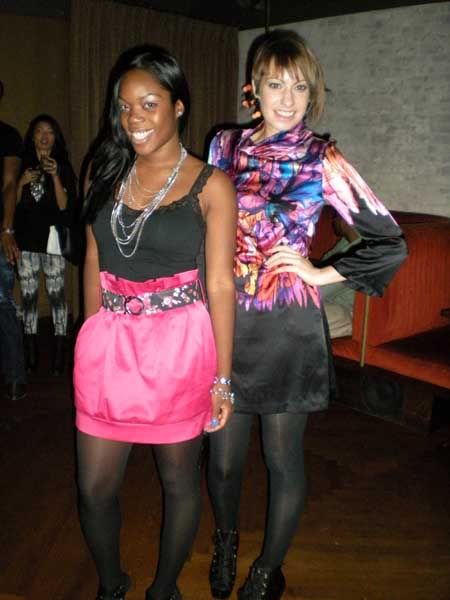 msthang77-
above left
and NickieSIXX-
above right 
(Of course I had to get a pic of her and I together.  You know, NYC Chictopians gotta stick together!)
There were many other nice, fun, interesting people at the parties.  I know I've missed out with picture opportunities of many, and with many.  Indeed I hope I got your info so as to visit your site, blog, whatever very soon!  That means you Pamela (from Market Publique) and you Cate (from WWD); I had a wonderful time with all of you!  And I hope we can all meet up again soon at another one of these events.
Until then, I must catch up on sleep--a weeknight party girl I am no longer.  Late nights catch up with a girl of my age (yes, check the countdown on my blog--soooooooo little time until I turn the big 3-0!  Yikes, time for beauty sleep right?).