Remember in my Weekend Rewind,
I was saying I bought a skirt for $7.99?
Yeah, I did....at Marshall's.  And here it is!
For $7.99, how could I leave it behind?  Even if I'm suspicious that it's from last year.
I think it's last year's Fall season because at that time last year, where I work, we made jumpers and other such dresses in the same color and with big black buttons.  This could be a sister to the ones I bought at work last year.
Whatever the case, it was rather exciting to come across it.  You know how Marshall's just has long racks and racks full of random shit; rarely do you ever come across the same piece twice, that's how this was.  So when I saw it was in my size, I snagged it--even if I wear it only once (which is doubtful), it was a deal!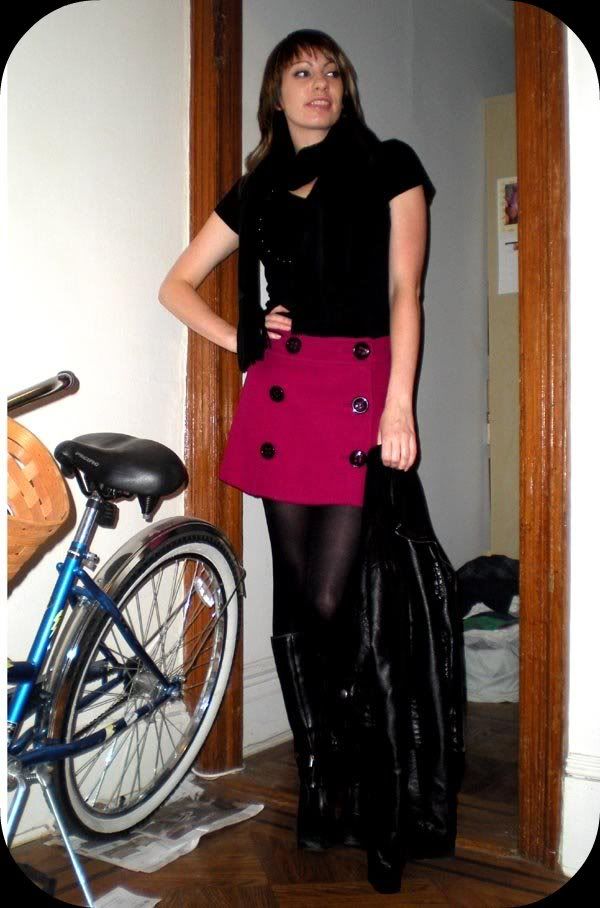 Luckily, this week is supposed to be pretty mild, easy to deal with weather-wise...just like today.  All I needed was a little jacket and I was out the door.
I chose my favorite black bomber jacket of course!
*Black chiffon beaded necklace-Forever 21
*Fuchsia wool skirt (Express)-Marshall's 
*Black leather boots-Anne Klein
And that's how I do my first day back to work after a 4-day hiatus....lucky me I was so busy playing catch up and trying to be on top of things; well there was just no time for a "Case of the Mondays".
Although, is it wrong for me to admit I'm excited for the weekend to get here already?