Today's 
Vintage View

=Velvet Box-cut Jacket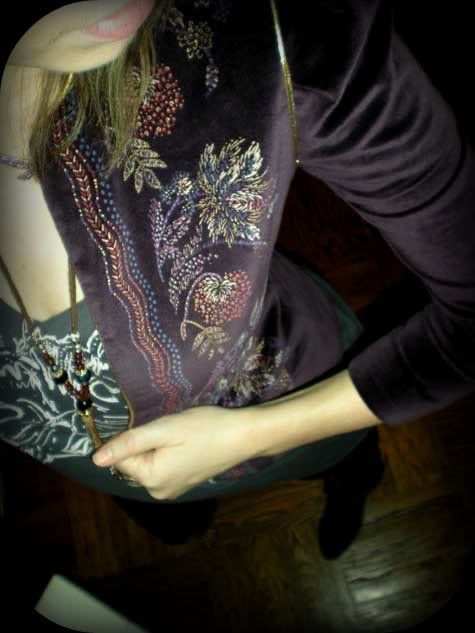 Ever have one of those articles of clothing that you just absolutely love, and you'll love it until the end of time?
That's how I feel about this jacket.
I came upon it several years ago when I first moved to NYC.  It was my first venture to the Beacon's Closet in Park Slope, Brooklyn .  And from that moment, I was smitten--not only with this jacket, but also with Beacon's Closet.  
I mean, to come across such a great item for so little on your first visit...what's not to like?
Side Note:  funny thing--I wore it to work about 3 years ago, and my coworker at the time excitedly pointed out that she had this EXACT SAME JACKET as a child.
WHAT?  Back up there girly--"As a Child"??  
Meaning to say this is not an adult jacket?  Sooooo, maybe it's not supposed to be 3/4 sleeved?
Yeah, maybe that's the case--but is anyone the wiser
(except for the fact I just told you)
?
*Purple vintage velvet jacket-Beacon's Closet 
*Gray v-neck t-shirt-Forever 21
*Dark denim skinny jeans-Uniqlo
*Brown suede slouchy boots-Carlos Santana
*Brown leather cord necklace-NYC street vendor 
_______________________________________________
So, do tell, what's one of your favorite, "never gonna give it up" items in your wardrobe?