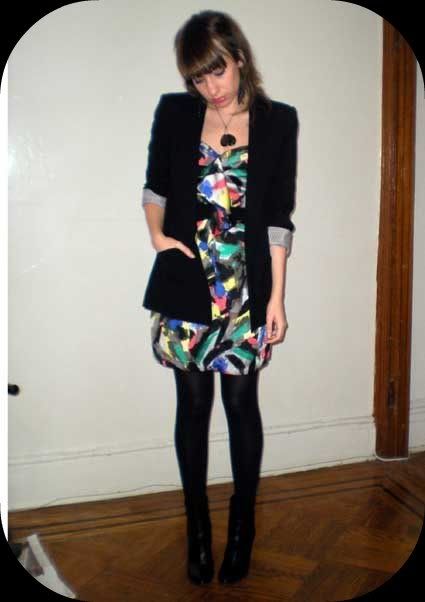 Not much to report today, just wanted to post my little dress I so rarely get to wear.  Well really it's by choice that I so rarely wear it--although I'm not quite sure why I choose to leave it on the hanger in the depths of my closets.
It was a rainy, messy, rather ill day here in the big apple--so why not add my own dose of cheer?  A rainbow of color was my retaliation to the icky weather at hand.
And I wore some new booties that I bought on Tuesday.  You see, I like to keep a few staple items in my closet at all time.  Since my usual booties are rather tattered and torn, I've had my eyes peeled for a new pair (classic, easy, but a little detail here or there would be perfect)at every turn I take.  
Lucky for me, I went to the Atlantic City mall to pick up X-mas ornaments and "just had" to pop in DSW.  
I forced myself to pick a pair because the ones I have are a poor excuse for appropriate footwear--and a purchase was made!
Overall, I'm happy I made an attempt at my wardrobe when everyone else opted for their usual wellies and practical rain gear.

And the new booties turned out to be comfy--I will walk miles around this city in these babies and never complain at all.  I'm already thinking I made the right decision to buy the shoes.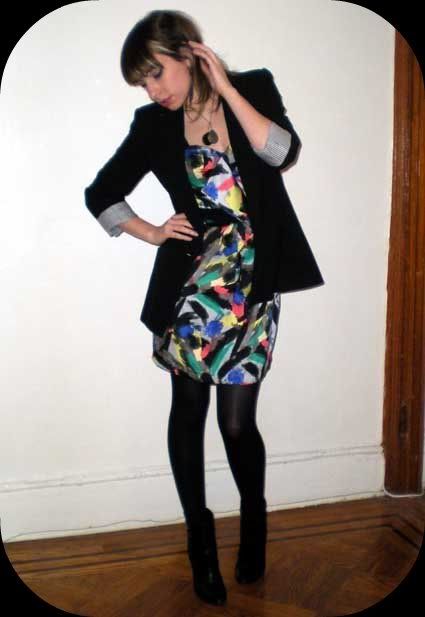 -Black boyfriend jacket-Zara
-Multi-color silk printed dress-BCBGgeneration
-Black leather booties-Nine West
-Silver necklace-my own creation
I'm really tired folks...it's midnight, and I have to be up in about 6.5hours!  Why can I never find time to fit in a full 8 hours of sleep?