Everyone thought I was wearing a dress.
Really it's two pieces: a Top and a Skirt.
Paired with one of my fave pairs of tights.
I wore my silver owl necklace-as usual
(although I have several of them, I always gravitate toward this little guy in particular)
(not shown for the shallow fact it was an ugly amber color at the time of these photos-not such a great "reading" according to
the charts
.

Had it been a beautiful azure or lovely green, then you might've got a peek. Maybe next time.)
Wearing:
*Black knit top-Forever 21
*Black body-con bandage skirt-Express
*Burgandy lace tights-H&M
*Black knee-high boots-Jessica Simpson
*Silver vintage owl necklace-Thrift Store
*Mood Ring (not shown)-West Village street festival vendor
______________________________________________________________
So today I saw something freakishly awesome,
(well the stuff that makes my day entertaining, maybe it wasn't "awesome" to the two involved)
Two grown women, certainly not ladies of moral or class,
(not with their actions)
got into a tift on the subway commute home. The one woman, about my age got all pissy with this little old woman. Then the lil' old woman- not being so sweet like most grannies are, got back in the younger woman's face. In fact, the younger one claims the older one touched her face
(I don't know what exactly she means by "touched", like a slap? a jab? Wish I didn't miss that part)
And it escalated from there. Just as the old woman was walking off the train, she decided to go back to the younger woman for some more. She mouthed off as one should not, and then the younger girl just pulled her by her coat and the old woman fell on the ground.
Then, the old woman finally proceeded to get up and walk off for real this time around.
At this same time, the younger woman's husband about got into it with some other man, because the other man was yelling at the younger woman telling her how ridiculous she was due to the fact that the older woman was elderly enough to be her mother! However, at this, I must say the younger woman's husband was being a big wus!
By that time, my train conductor got to the scene and the other commuters convinced him that the young woman was in the wrong and therefore he should call the police.
To which the younger woman decided it was high time she book it off the subway before she got into any lawful issues, maybe assualt? I don't know, I don't get into trouble w/the law.
And then the train doors closed and we were on our merry way.
(It was the highlight of my day-made me realize that even at my worst behavior, I've never stooped to that level and never plan to do so.
In comparison to them, I'm A-OK!)
________________________________________________________________
On another note, remember when I told you I won a contest on the stylesite:
Fashism
?
My prize was a $50 credit to Rent-the-Runway
(an invite only site that allows its patrons to rent designer garments at upwards of 90% off the retail price.
It's set-up very similar to netflix, so rental and return is made easy)
Unfortunately my prize expires at the end of this month.
Being the procrastinator I am, and one with a severe lack of free time, I waited much too long to browse around to see what was available.
In the end,
(the end-being tonight)
, they didn't have too many options left for the event I have in mind. And no Balmain up for grabs as I originally hoped; so I went with this instead: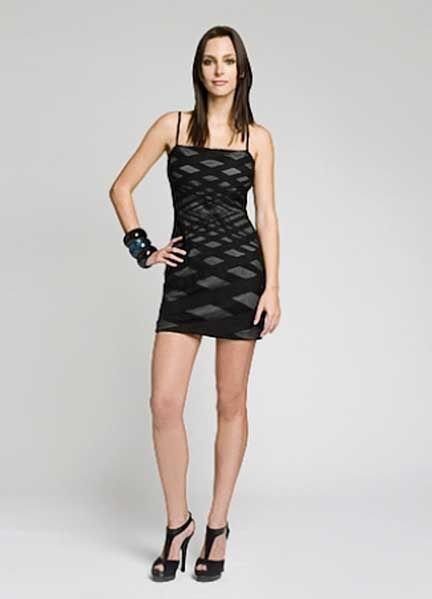 an Optical Illusion dress from Robert Rodriguez Collection
(Picture courtesy of renttherunway.com)
I figure I can spice it up a bit with a jacket and some accessories.
We'll see what I do with it if all goes well.
Of course I'll be sure to post the pics and blog all about it.
Until then, if you're interested in joining, as I said it's invite only.
However, once "IN", there's a wide variety of dresses to choose from, something for everyone!
-Starting at 4-day rental rates of only $50.
-A second size can be shipped
(free of charge)
for first time rentals of that particular designer
-You can also add a back-up style for a few dollars more...
Seriously, can it get anymore brilliantly genius than this??
So if you've got a wedding, a sweet Valentine's Date, a night out on the town, and you want something fun and on-trend that otherwise our wallets would not allow us to wear,
Rent-the-Runway is the perfect solution!
and voila--you've officially been invited!
(if for some reason clicking "HERE" does not let you join, let me know!)