9 out of 10 manicures I get, result in using
SEPHORA by OPI's DARKROOM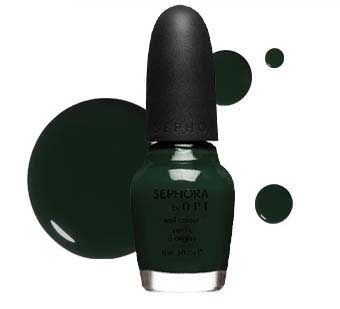 My fondness of dark colors started when I had my first bottle of Wet N Wild's classic BLACK.
(As I'm sure you've all owned at one point or another as well)
.
Then in college I got my first real manicure,
(I know, right? Forget what my nails looked like before then....YIKES!)
for my sister's wedding. I chose O.P.I.'s BLACK TIE AFFAIR; and it was love all over again.
Then a few years ago, we all feel for Lincoln Park After Dark, in fact I still use it. And then the following autumn brought RUSSIAN NAVY, MIDNIGHT IN MOSCOW, etc etc etc...
But of all those colors, while tried and true, I have yet to fall for them quite as I have DARKROOM!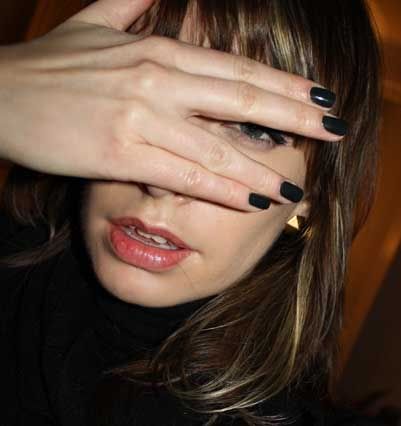 I love the deep, almost black shade, with the undertones of green and teal.
In real life it comes out so dark that you almost have to do a double take at times to realize it's true color.
Shown below, the lighting
(not my hand or picture by the way)
must be hitting in all the right ways because the dark green of it all is really showing.
It's a classy and chic, yet maintains a girl's need to sometimes look like a "bad-ass".
(And it looks pretty cool when it starts to chip too!)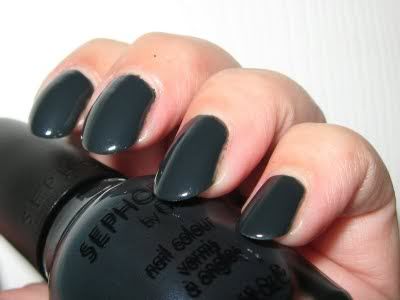 As we gear up for spring, I'll of course opt for some bright cheery colors here and there.
But I'm certain I'll somehow manage to keep Darkroom in my usual mani/pedi routine.
Just because the weather eventually will warm, doesn't mean I have to rid my life of my favorite nail polish shade! Season appropriateness be damned!
So Darkroom...you're alright by me!
______________________________________________________________
Putting together these quick pics, I came across some awesome nail blogs.
And once again my curiousity and secret love for nail art is ready to come out and play.
(On occasion I've been known to take sides with the chicks who're rockin' some crazy get-up on their nailbeds. Sometimes it just beats a boring solid color like those uptown lassies, no?)
Right now, I'm particularly fond of what I saw on
NailArtWorld's
Dec. 30, 2009 post:
You might notice her leopard print/tiger stripe nail-art.
Well I was inspired to whip out my Sally Hansen Nail Art Pen and go to work.
Unfortunately, Sally Hansen has let me down...and I have to give a big
to her Nail art Pen.
It blows!
So sorry, no leopard print nails for me, so no picture for you :(