First of all, Happy New Year everyone!
This is such a botched together post, but I NEEDED to put this out there because who, just who, does not do a New Year's post????
(For one, I'm a moron and had the manual focus switched on, not the auto focus, and then proceeded to have no time for a redo when it came to my NYE outfit shots. F*&%$!!!
And secondly, I wanted to document the entire evening's festivities w/lots of photos, lots of holiday style, and lots of fun....but a just before midnight trip to the emergency room meant my camera was a no go)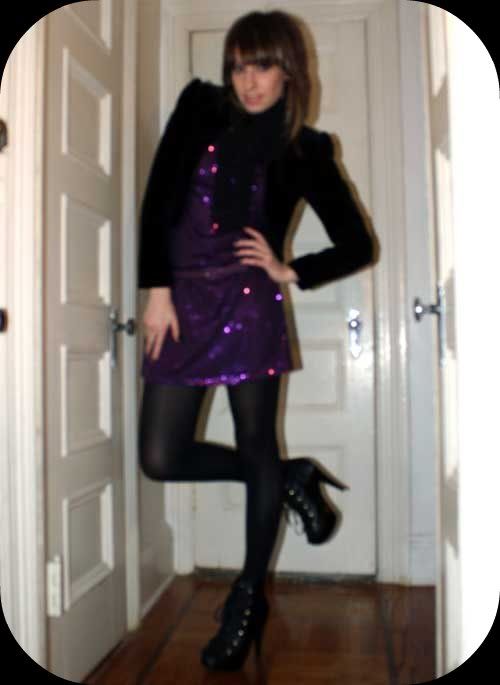 Wearing:
*Black velvet bolero-Sassoon (vintage)
*Purple sequin mini dress-Express
*Black peeptoe booties-Steve Madden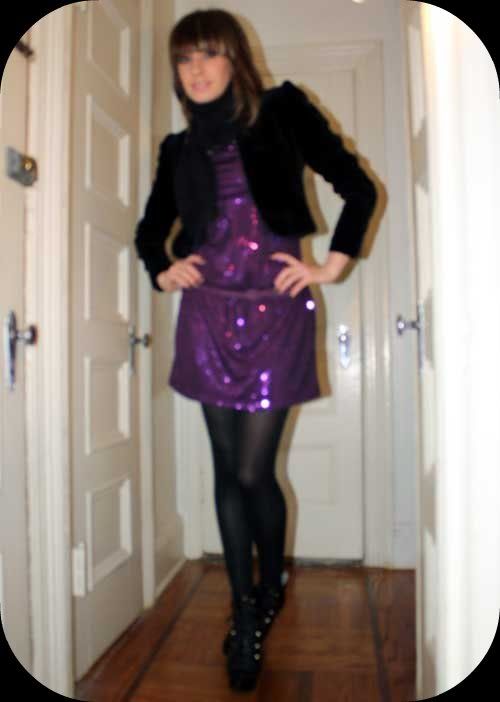 This poor little purple dress has hung in my closet for years....like 3-4years! Never worn!!
I had found it on super SALE at Express, something like $20, so I never felt all that bad about not wearing it; moreso just guilty that I yet again purchased something I didn't even use--frivolous spending be gone
(something I could only aspire to)
!
For whatever reasons I never wore it, mainly because it was always a little too tacky, a little too shiny, and perhaps a little too snug at times
(oh the difference a few pounds can make, and the perils of being a junk food junkie)
, but somehow last night it fit alright, and all that glitz seemed appropriate for a New Year's Eve house party
(BTW Joe, great party...if you're reading this--thanks for the invite
)

.
And thus, my New Year's outfit was born.
_________________________________________
PS-my only resolution for 2010 is to sit down and read my entire camera manual so I'm not such a fool when it comes to simple tasks like "focusing". DUUUUUHHHHH!
Hope your 2010 is a good one!