Ok, I didn't get out of my pajamas on Friday, and today was pretty much the same deal-although it involved going to the laundromat.
Saturday (January 2, 2010), I actually went out and socialized.
I also participated in some gaming-fun.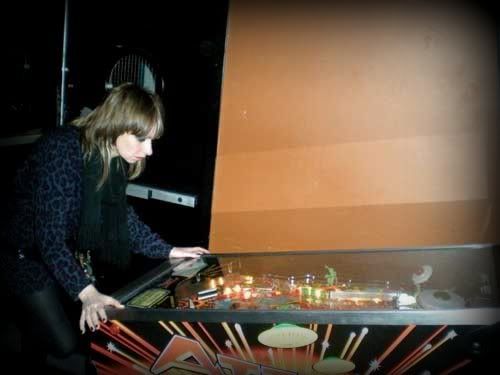 Quite honestly, this was about the only time that night I left my seat...so by this time it's a bit foggy. I do recall possibly schooling some people in the art of pinball, but I also schooled myself in the art of "TILTing".
Thanks to my aggression and Tilt abilities, I have a pretty little shiner
(actually it's ugly and huge)
on my right hip.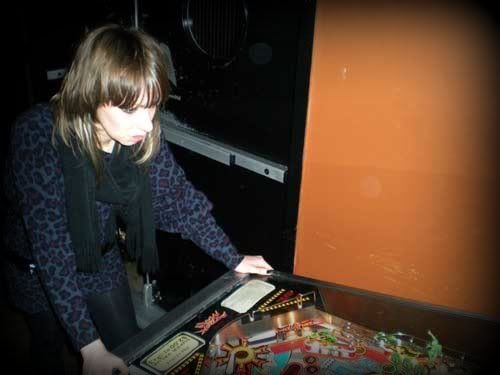 And then we called it a night...
(or maybe I was told to call it a night, not really sure.)
Being that this weekend was so bitter outside, I had to dress wisely.
While not wanting to look frumpy and overly cautious about the cold, it took some wise selecting on my part in terms of dress.
Luckily I remembered how cozy warm this sweater dress was from 2 winters ago.
(I didn't wear it last winter for whatever reason--probably I felt ridiculous, fat, or something along those lines)
So on it went, some nice solid tights, a beaded belt, thick socks hidden inside my booties, and I was out the door!
I'm not going to lie....it was still friggin COLD as all heck out there!
Wearing:
*Purple leopard print sweater dress-Betsey Johnson
*Black stirrup tights-Express
*Black beaded belt-vintage (from neighborhood antique store)
*Black booties (not shown)-Nine Wes
t