This dress is just one more reminder why I need to hop on a plane
Oh Village Thrift...I'm coming to raid your aisles!
--I thought I'd go in February, but all you Chictopians rest assured I will be in town for the conference--so yes, let's hang out and I'll show you my city!
--I think I'll try Ohio in March instead.
(uh hmmm....Meri, if you're reading this, I will take you up on that offer to go thrifting when I'm "secretly" in town. I'll make sure to fill you in on my travel details; hope you don't mind driving because I will not have a car--but I'm all up for going to all your thrifting hotspots, then for some cocktails of course! I'll pay you for the gas with "liquid assets"!)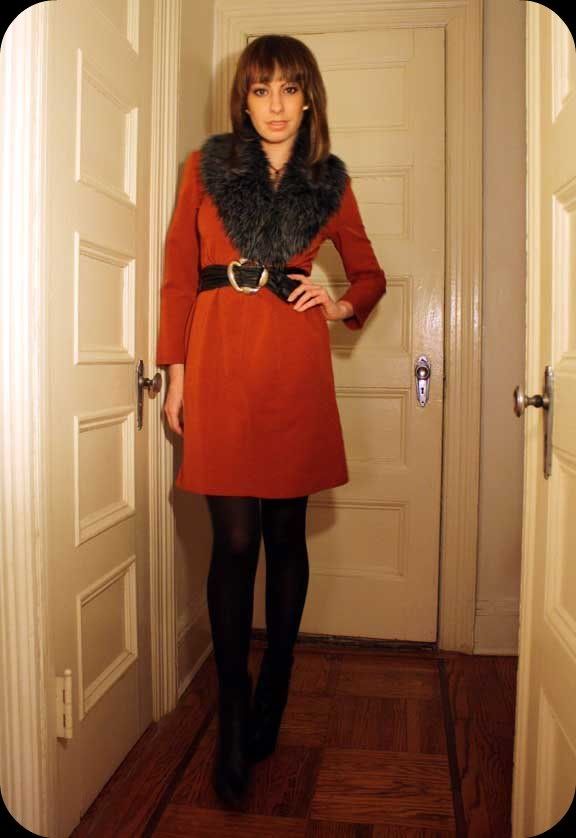 So Ok...the dress!
A vintage 1980s zip-front goodie, w/SHOULDER PADS!
Found it while perusing the racks of the Akron, Ohio location of Village Discount Outlet.
The great thing is, Village thrift has 4 different color price tags
-and everyday they choose two colors to be 1/2-off!
Can you imagine? I mean it's cheap as is, regular price a dress like this is $3.00.
When its a lucky day, a dress like this is the right colored tag, and look-at-that, it's only $1.50!
So I've worn it as above on several occasions
(before I started this blog, that's why its never been viewed here, until now)
.
It's a little big in the waist, and a little short in the sleeves--darn dress and its "petite sizing"!
--So I just tighten it up with an '80s belt
(also from the same thrift store)
, and I could've put on some bracelets since the wrists are overly exposed,
but hey, I think I already had enough accessories going on.
In an attempt to liven in up , and make it into something new for myself-I chose to top it off with a fur stole.
-now I wore this fur stole on the outside of my coat for some extra dosage of flair,
but off with the coat once indoors and keep the fur stole.
It's ok right?
And this is what I skipped down the street in last night when I met up for some blog-gossip talk over drinks with my friend. Yes, we talked blogs--I mean we're friends in the real world, but we still choose to discuss things that are only alive in cyberspace.
(maybe my life is more exciting on the internet than it is in reality???)
Wearing:
-1980s vintage dress, thrift store
-Fur stole/collar thingy, H&M
-1980s slide belt, thrift store