you better believe I snagged it right up,
"Like a Bat Out of Hell!"
Ok, I could go on and on with more Meat Loaf references...
such as this t-shirt is like "Paradise by the Dashboard Lights" for me, but I'll "stop right there".
(...I gotta know right now. Do you love me? Will you love me forever? Do you need me? Will you never leave me? Will you make me so happy for the rest of my life, will you take me away, will you make me your wife?.....ah yes, Meat Loaf! Not gonna lie, I'm a fan!)
Obviously, this was a no-brainer, considering I've got a HUGE penchant for vintage rock tees
(and I'm sure there's more hiding within this blog, just can't remember when/where)
So I snagged it right up with a ga-gillion ideas of how I might style it.
(I'll only showing you 2 ideas today)
Option 1:
Wear it as a dress
(see above)
, its a tunic length-so why not?
-Oh yes, why not? because this is one time when being shorter might've come in handy.
(as a dress it's a bit too tarte-like for my semi-conservative demeanor)
Option 2: Wear it as a tee, paired up with items oozing a "rock n roll" vibe.
-ah yes, this is how I could wear it if I were to step out of the comfort of my own home
Too perfect for a night out on the town-at least my kinda nights out.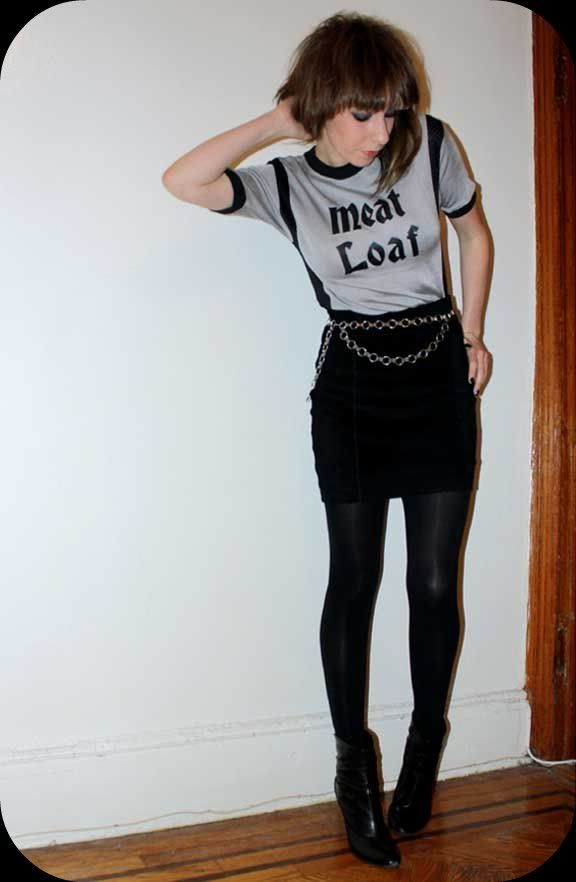 But alas, I had to give it back.
And now it waits for a lucky owner to snag it up for themselves:
You know, just in case you wanna rip my style. Or perhaps do it up your own way.
"So what's it gonna be? YES or NO"
(ok, wayyyyyyy too many references)
By the way...if you're on Facebook, and you're reading this--
please become a fan of Wild as a Mink, but Sweet as Sodapop!