Just a few quick things...
And my past two days' outfits.
Monday, I opted to go the easy route--JEANS, of course.
However, I "jazzed" it up by pulling out a velvet jacket I had only worn once prior.
It's yet again a little something-something from the thrift stores in Ohio.
(aaaah! I've got to stop wearing these items because it's KILLING me not to be able to just hop in my car and whiz off down the street to get my "thrift on".)
Wearing:
*Vintage Velvet jacket-thrift store
*Suede boots-Carlos Santana
*Necklace-street jeweler in Soho
Today, I opted for a skirt I got a little over a year ago. It wasn't something I found myself wanting to wear; but after seeing the same skirt in blue on
The Bargainhunter Extraordinaire
,
I remembered it's high time I give it a whirl myself.
After the fact, I realize I probably could've used a pop of color in here somewhere.
Oh well, next time I suppose.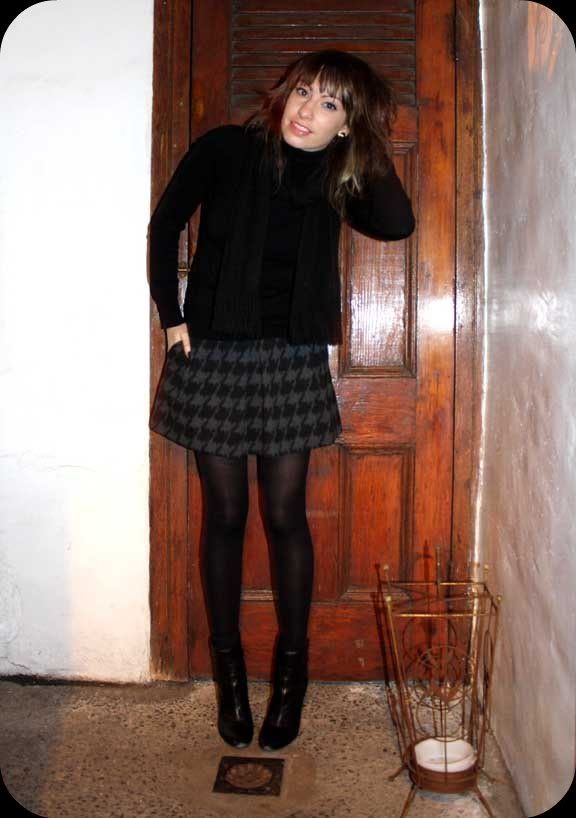 Wearing:
*Houndstooth mini skirt-Express
-After work I got a manicure; yippee! I brought my own fave color,
Darkroom
(Sephora by O.P.I.)
, basically because nail salons do not carry Sephora nail polishes.
-I also came to realize its about time I get my mop trimmed up...so add that to my "to-do" list.
(maybe this weekend, I'll call tomorrow for an appointment on Saturday)
-And I considered calling home to ask my mom to dig out some old pics of me as a small child--for hair reasons. I read that your best hair hue is whatever you had as a small kid.
In my case that means dirty blonde, much moreso than the light brown I've got now.
(I don't know about this yet--hair dye issues might have to wait. My mind is not fully there just yet--
no need to rush into something I'm not willing to upkeep you know?)
Anyhow, off to watch a little Conan, then off to bed.
tootles!