On occasion I've been known to shop in the juniors department--aack! I've always been afraid of becoming one of those moms that wears items her 14 year old daughter should be wearing, not her.
Nowadays, the only thing I've figured I got going for me in this realm is that I may not have to worry about having that 14 year old daugther.
But let's face it, looks like I've become that woman- too old to shop in the juniors department.
(Actually, a moment of triumph came about last year when I finally passed up the 4th floor of Macy's because I had officially decided the juniors' department offered nothing of my liking, and that I had finally "grown-up" to the contemporary floor. Now mind you I will still shop the juniors dept. anywhere else, its just something with the one at Macy's that makes me fret).
So as I try and try to put back that pair of doc martens, or that Betsey Johnson bracelet, or this or that....sometimes its just too powerful and the juniors' force takes hold!
And bam! I buy something that I wear a few times only because I feel a bit silly in it.
(ummm such is the case with 95% of what I buy at Forever 21. Yep, pretty certain I don't belong there these days either--but its everyone's guilty pleasure right?)
So what was it when I was at Beacon's Closet that convinced me this dress would be different? Oh yeah, the fact that it was vintage.
I obviously was convinced, just because there were plastic buttons and a tiny little-girl floral motif, it was still perfectly suitable for a 30year old.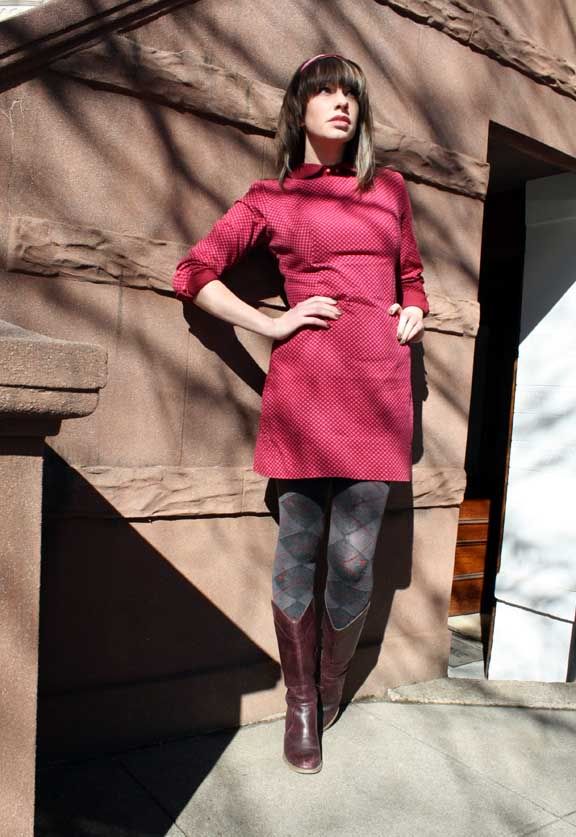 And after a day of wearing it to brunch with the ladies...its pretty obvious it was made for a 13 year old girl--but one with a big chest! Yeah; it's a juniors' vintage dress right? Short arms, short length, juvenile print...what possessed me?
Whatever the case, and whatever age I may be, too old or not-I still think its cute.
Wearing:
*Vintage dress-Beacon's Closet
*Felt applique headband-Bust Craftacular (craft fair)
*Argyle wool tights-unknown origins