Dear readers
(I love you so)
...
Your mission, if you so choose to accept:
FIND ME SOME MORE HOOT OWLS!
(the one I wear several times a week-from thrift store)
It's common knowledge I've got a thing for owls-I'd like to think this goes back way before they became a crafter's cute staple go-to animal.
In fact, I know my little "thing" for the avian-kind came way before I got into crafting myself.
A quick investigation through my
Daily Wears
will prove that this is not just a one-time thing. And for all my routine readers
(I thank you big time!)
you know I'm wearing them all the time!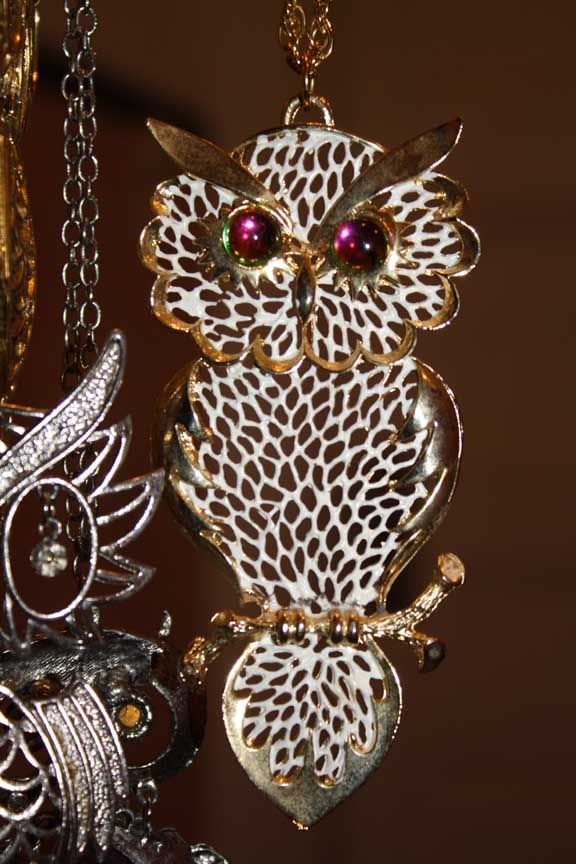 (the little guy that got a "Marie Antoinette-style" beheading before my first wear, successfully glued his head back on. From Brooklyn Flea)
So as I've had a solid 6 owl necklaces for some time now,
let's work together to expand my collection.
I desperately want, to find some unique vintage owls...
and I need your help!
(gift from friend when visiting the Ohio thrift stores--thanks Adriane!)
So friends, if you'd like to aid me in this search, just keep your eyes peeled.
Anytime you're at a flea market, a thrift store, an estate sale, or rooting through some dead person's loot-
keep my penchant for owls in mind.
I am more than willing to pay you for your findings, no problem!
(although please keep in mind the most expensive owl I've purchased rang in at $20, don't be a sucker for vendors like the ones at the Chelsea flea markets that will try to convince you they're worth $50-75.00+! Heck no!)
So, if you come across a Mr. Hoot Owl that you think I MUST HAVE, give me a head's up...
I will repay you the monetary value and you'll have my undying appreciation.
(Oh and you might just find yourself on my list of BFFs)
And if you've got cold feet about rushing into this, snap a quick picture and email it to me:
Thanks friends!