Let's rewind back to 1994, and ask why I couldn't look like this when I was a teenager and grunge was cool the first time around?
Now, I'll admit, I am still not cool....but put this outfit and picture next to my 15 year old self, and I'm like 50x cooler NOW than I was then.
(Crap, if only I had a scanner I could throw up some pics of my 15 year old self so you'd see just what I mean)
.
Seriously though, can grunge just come back in full force? That would be awesome, thanks!
I'd have no problem if dressing like this was completely on trend for everyday. If only the "comfort-cool gods" could hear my request...
Ok, so really, this outfit only came about because I had borrowed this vintage Chanel onsie to style up for
Dusty Rose Vintage
.
(sorry ladies, the union suit was up on the site for a HOT NY MINUTE before it was SOLD! So it's no longer available--but they obviously have a lot of items up for grabs, so it never hurts to
see what's new in their store
.)
I couldn't just run around wearing a onsie, I needed to layer it up (I mean picture me, in a union suit, nothing else...ok-don't picture that! All I'm saying is it was a bit "Al Swearengen-esque" for all of you that ever caught an episode of Deadwood--uh seriously, you missed out if you did not watch it....the Wild West never looked so tempting!)
So on with the denim cut-offs and some fingerless gloves
because it was downright frigid in my house anyway. The gloves were kinda multi-task items for me--keepin' the hands warm, while helping out with the one-piece button-up.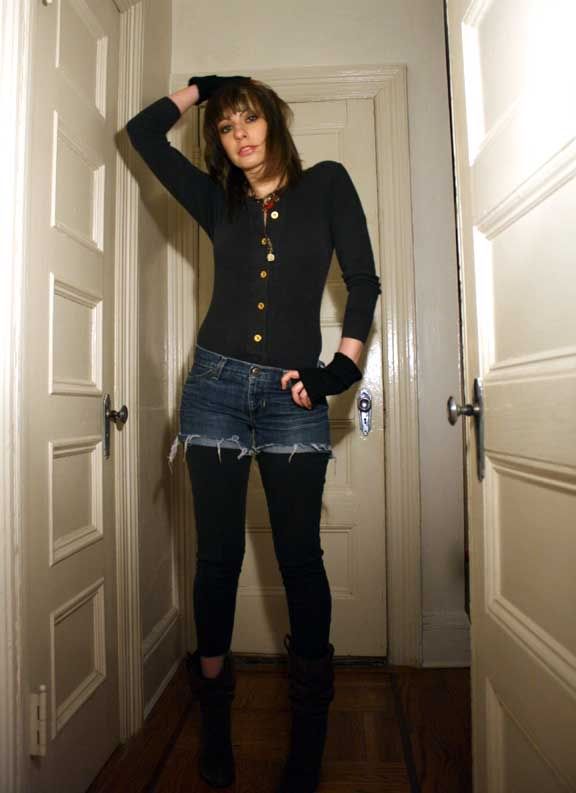 I went shopping in BF's closet--and YES! He had this amazingly soft and thick vintage flannel so I secretly pulled it out while he played video games then retreated to the back of my apartment so he couldn't see me with his shirt.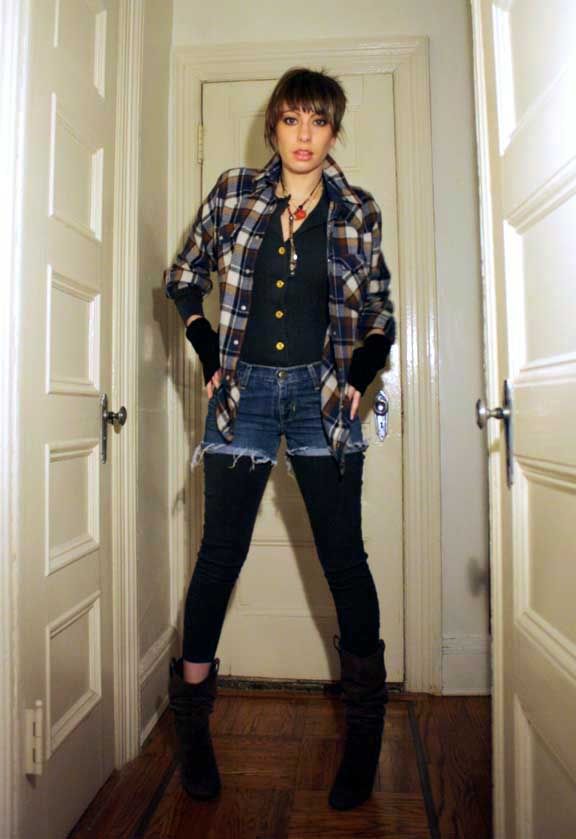 And there you go folks--
my take on the "Grunge" look.
If only I had that little accessory known as Johhny-freakin-Depp to tote around on my arm like I was Winona Ryder, well I'd be all set!
So my fellow fashion girls...who loves it?
Will you work with me to bring this style back into full force?
I feel that over the past few seasons the designers have dabbled in the idea-but no one has really, completely, perfectly conveyed, that they are indeed channeling the likes of Kurt Cobain all over again. You know what I'm saying?
But for those that lived thru it once already-you cannot deny that it was kinda a skeezy-hot way to dress; I mean a little dirty and rough around the edges, but super comfy and casual cool
(kinda what I am constantly going for)
all at the same time.
And for all those younger girls that don't fully know what I'm talking about you should give it a try and show us what you come up with. I'd love to see a fresh, not-so jaded take, on this look.
(For all those young girls who knew me when I was 15, PLEASE do not use me in my teenage years as a style reference--yikes! I was a hot mess of a dresser back then...
SewMeSomeLove
can attest to this if it seems hard to believe. Oh wait...no one is doubting me on this, of course I was a crappy dresser; weren't we all at one point in our lives?)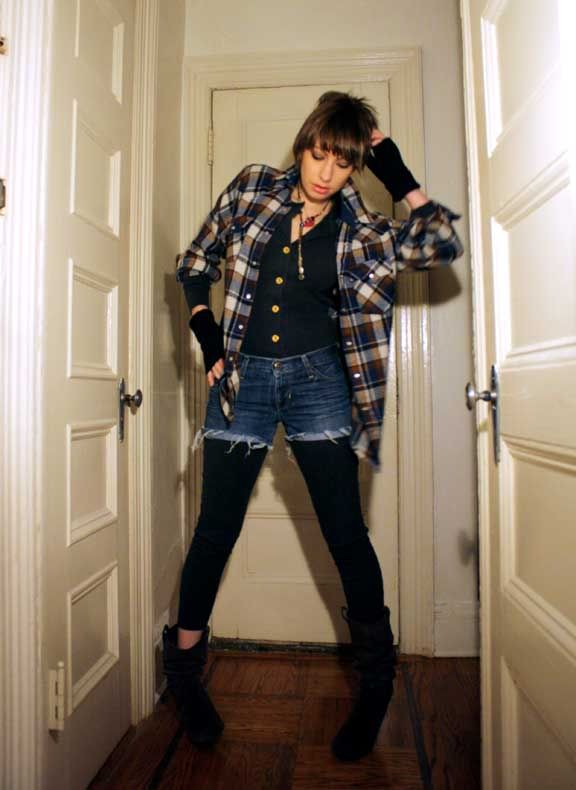 *Plaid vintage flannel-from BF's closet
*Denim cut-off shorts-DIY to an old pair of GAP jeans
*Brown slouchy suede boots-Carlos Santana
*Black fingerless gloves-Xmas present
*Gold "BESTIE" necklace-Fred Flare
(the other half was given to my BFF of course)
So tell me..."GRUNGE", love it or hate it?
_________________________________________________________________
On a side note, I just want to give a big
THANK YOU
to Tuesdai Noelle
(
I googled her after receiving my blog and she's got an amazing story...yes Tuesdai, I googled you! I am very impressed with what I found)
from "
A Reflection by Tuesdai
" for putting together this award and then naming me one of its recipients. To my knowledge she just recently came across my blog and vice versa--I now enjoy her almost daily comments and my almost daily visits to her blog. She always has some uplifting, pretty, cute, or inspirational photo with a quote to match and its enough to make anyone smile. I particularly liked a
recent photo of lots of cupcakes
she had...it was enough to make anyone want a cupcake right then and there and to add a big smile to your day!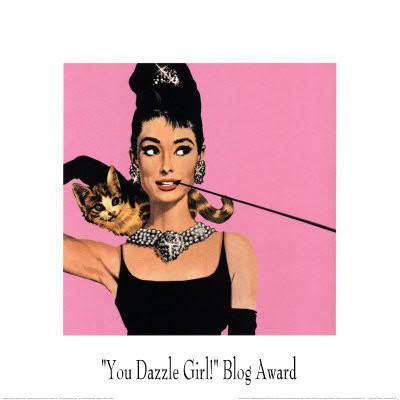 And besides, who wouldn't want a lovely picture of Ms. Holly Golightly and Cat on their blog? This is one of my favorite images associated with "Breakfast at Tiffany's" so it's perfect!