Finally I've returned to my blog world.  All the friends and family have gone back to their respective portions of the country and I'm left with my birthday memories.....

It's safe to say,
all my birthday dreams came true
I had the best night of my life!  It was more than I ever expected it would be.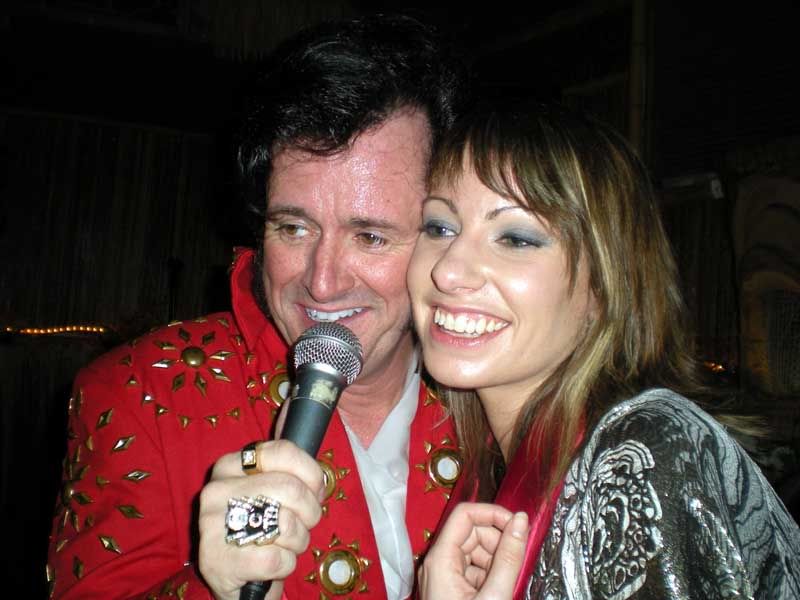 Take it from me, spending your
birthday with the KING
, it doesn't get better than that! 
On my special day, I wanted to channel Elvis a little bit myself.
I chose a dress I designed for my company, so perfect that the cape is incorporated.
The Birthday Girl's Wearing:
*Ivory metallic jacquard chiffon dress-Alberto Makali
*Black opaque tights-H.U.E
*Black leather peep-toe booties-Steve Madden
*Black patent-leather vintage purse-Thrift Store
Looking back on last Saturday, it almost brings a tear to my eye (trust me, I am not a crier, so this is rare) to think of all the friends and family that actually came out, even travelled half way across the country.   I never imagined I'd have such a turn-out; it was crazy fun, totally insane, and a rowdy good time!
So with a drink in my hand, a silk scarf around my neck, and whispers of sweet-nothings from the KING.......

I can gladly say,
"This is one for the memory books!"
Thank you everyone, you made my night the
BEST BIRTHDAY EVER!
And thank you
STINGRAY
, you are the most amazing Elvis Impersonator I've ever seen (and I've seen a few in my day).
Ummm Stingray,--are you looking for a "Priscilla"?
(side note: it is never too early to start planning your 30th birthday party!  I started when I was 28!  And look how it turned out....)