The past week up until Wednesday was spent running around with friends and family. For those days, I had to find the perfect balance between
sightseeing with the family,
then meeting up at the
bars with friends
until the wee hours of the morning.
Needless to say....at this point, I'm ready for bed-a nice weekend of good sleep. Because, well, I'm running on empty!
It's not easy to do family stuff till 10pm, meet up with friends till 5am, then get up and do it all over again at 9am!
I already posted my last Thursday with out of town friends. You might recall this outfit: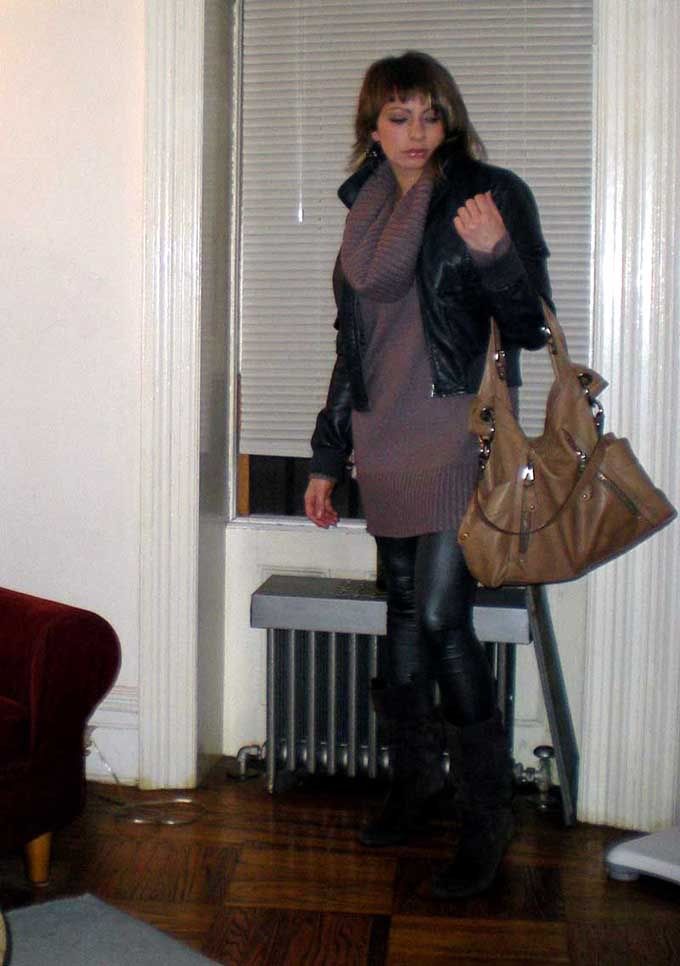 *Lavendar cowl neck sweater-H&M
*Gunmetal metallic leggings-Forever 21
*Brown suede boots-Carlos Santana
Kept me comfy when I met up with mom and dad, and aunt and uncle.   I took them all around midtown, seeing everything there was to see within a 10 block radius.  
The following day meant brick-oven pizza in Times Square with yet more family.  Then, it was off to see Coney Island.
Wearing:
*Black turtleneck sweater-H&M
*Black print scarf-Express
*Black knee-high boots-Anne Klei
n
After the birthday party, I met my family super early for such a late night out.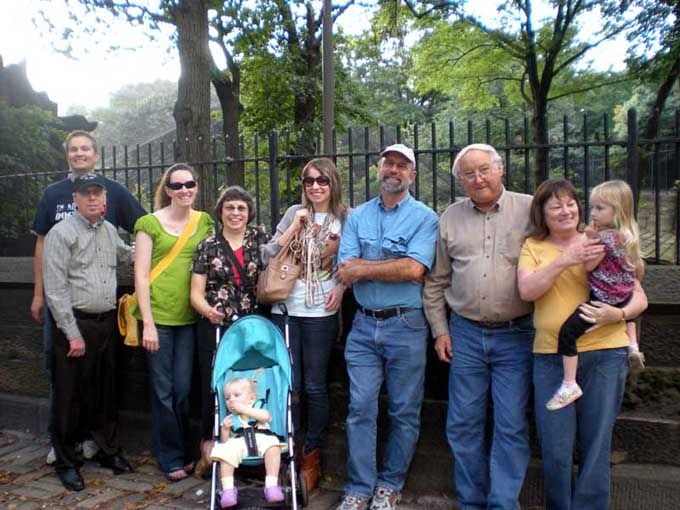 Notice my lackluster attire-tee, jeans, cardigan, no effort.....I was TIRED and BEAT ok?
*Blue t-shirt-Urban outfitters
*Brown booties-Steve Madden
*Ivory fabric fringe necklace/scarf-Necklush

(www.necklush.com)
And as the next day rolled around, I was even more tired after a farewell night to the BFFs at a place in Brooklyn.  I stayed out too late, then up too long with my best friend from high school.  So when it came time to meet the 'rents I was really just exhausted.  Yet, I still made it to the Ed Sullivan Theater in time to greet them when their taping of the Letterman show was finished.
Wearing:
*Brown denim jacket-Jordache
*Brown booties-Steve Madden
(Side Note:  While waiting for them, I managed to catch a pic on my phone of Steve Martin and Martin Short exiting the side door after the taping!)
And on the final day of peoples' visit to NYC, we took a trip to Chinatown for some junky souvenirs.  Then off to Little Italy for yummy gelato treats and deserts.

Wearing:
*Brown turtleneck tunic-H&M
*Brown suede boots-Carlos Santana
As much as I love everyone, I have to admit I was looking forward to much needed sleep and getting back to my "ME" time.
And all I'm really getting at in this post is a simple, obvious, well represented fact:
When I'm worn out, I wear lots of H&M, skinny jeans, and bomber jackets!