My recent behavior
(A.K.A. "not posting")
is no way for me to keep readers, or gather new ones. But I swear, it was not my fault--I didn't run away, didn't go out of town, NO-none of that.
All I'm saying is I have one computer at home hooked up to the internet, and BF had been hogging it till the late hours of the evening all week long! 
(he felt the need to intensely research every freakin' flat screen tv offered--and not even in hopes of scoring a Black Friday deal. No, he just wanted to know his options and know financially how much he was looking to set himself back).
So, below are a few of my daily outfits from the days prior.
It appears TURTLENECKS ruled supreme!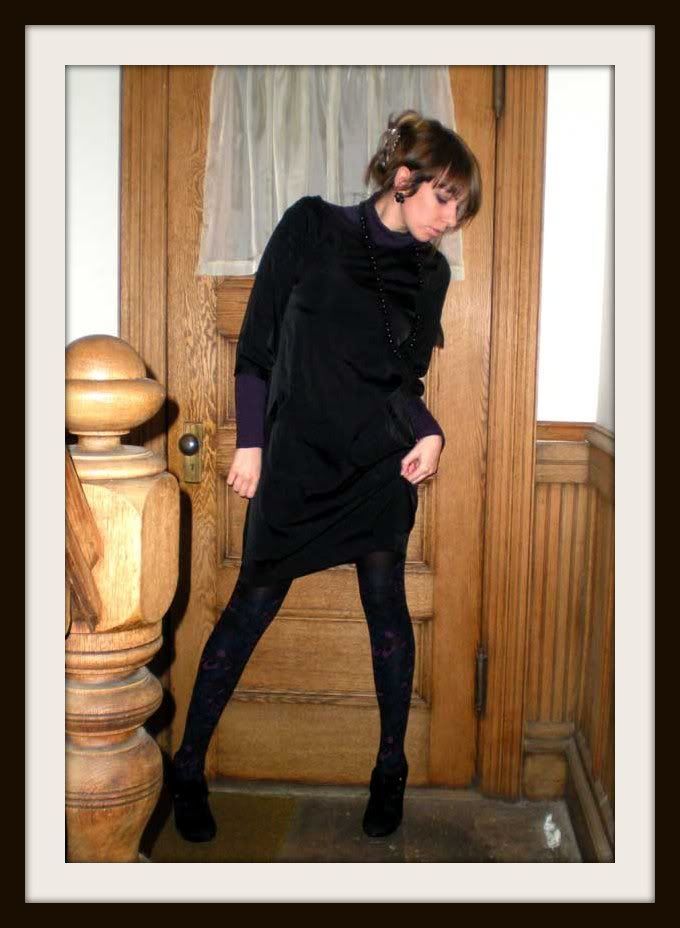 *Purple turtleneck-Kensie 
*Black (cocoon silhouetted) dress-H&M
*Black printed tights-HUE
*Black suede/patent-leather shoeties-BCBGgirls
*Black beaded/chiffon necklace-Forever 21
*Black multi-stone stud earrings-Macy'
s
*Magenta turtleneck-Old Navy
*Printed cotton button-up blouse-Proenza Schouler for Target
*Blue skinny jeans-Uniqlo
*Brown suede boots-Carlos Santana
*Brown wooded bead necklace-Forever 21
*Black cowl neck sweater-H&M
*Black suede boots (80's vintage)-Thrift Store
Funny how I was planning to pick out my outfits the evening before each day in order to save myself some time getting ready in the morning.  
I stuck to that method all week long--yet, you'd think I could've put together something a little more creative, right?
The most I could whip up was a clear wardrobe staple
--THE TURTLENECK.--
Basically, spending my free time after work mixing and matching clothing for the following day,
IT WAS BRUTAL!  
I realized, as much as I don't want to wake up early in the mornings, I also don't want to spend time after work putting together something interesting .
In a nutshell,  clothing choices were just not my thing this week.  
(Thankfully, although I worked on Friday, I was able to get in a little shopping.  Therefore, I slightly refreshed my wardrobe, and I'm good to go again).