This could be, any given Monday I've ever experienced: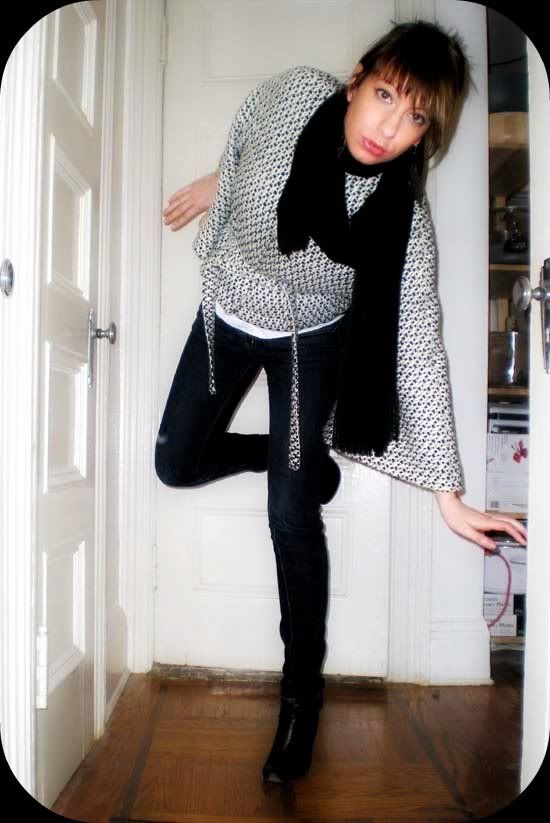 Again, I pondered an outfit in my head, meticulously planning all the details, add-ons, and layers I could throw together in order to complete the look.  This is all part of my goal to one day get ready for work with ease--and planning an outfit in my head as I work through my daily "get-ready" routine is my first step at doing that.
When I plan an outfit in my head, I usually focus on one main item, then build around that.  And then as I physically put the outfit together, usually an item here or there doesn't work out, and an extra piece here or there ties it together.  
(of course sometimes this method fails entirely and I'm left to throw on my trusty basics and head out.)
Today, it was a bit of both--a bit of it coming together, a bit of it not happening so well.  
Take this jacket for instance
(I'd been wanting to wear it for quite sometime now--

those sleeves!

)
, it was my main focal point.  And from there I had big plans--I was of course getting way beyond myself picturing this black velvet pencil skirt I have
(honestly, if I wore something like that to work everyone would assume I was going on a job interview at some point in the day-haha!)
and a fitted turtleneck sweater.
Yeah, not my usual.  So cast-off that pencil skirt, throw on my jeans, put it all together.  
Turtleneck too short w/jeans, so put on a tank underneath--
But in the end, something about the jacket was throwing me off-I think it was the length. 
And as it turns out, what started as my main focus, was tossed aside to reside on my bed 'till I returned from work.  And instead I went with my black wool trench.  
Funny how it all works out.  
(Needless to say, in a better attempt to put myself together-I'm going to test out the "picking out the outfit the night before" method and see how that goes for the week.  In fact, I've already taken care of it for tomorrow).
Soooo....pretend I actually committed to wearing this jacket instead of my trench,
and this is what I would've mustered up for today: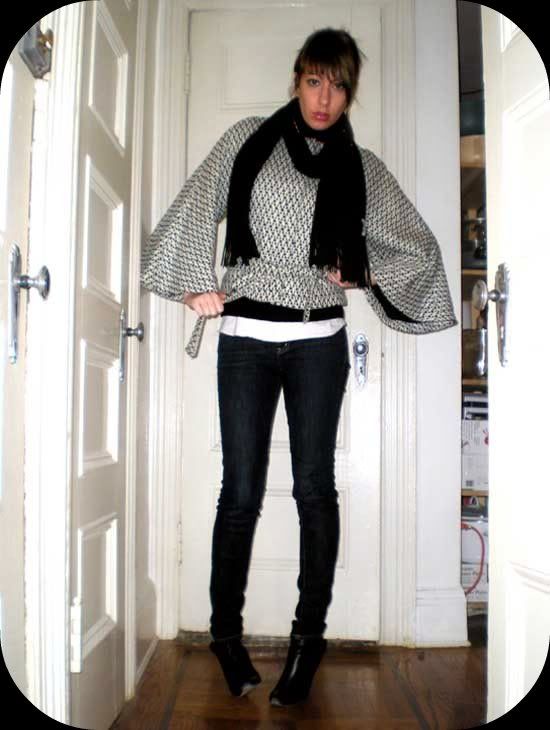 *Black/white wool bell sleeve jacket-Alberto Makali
*Black turtleneck sweater-Kohls
*Dark Denim skinny jeans-Uniqlo
*Black leather booties-Daffy's
*Silver feather shaped earrings-H&M