The Weekend draws to an end, and I had yet another Low-Key Weekend--and I'm rather quite liking it just that way.
*Black boyfriend jacket-Zara
*Black v-neck sweater-GAP
*Black leather booties-Daffy's
*Silver vintage owl necklace-Thrift Store
*Silver watch w/pearl band-Swatch
Since I got that new dress from the Kensie Party it had been infiltrating my thoughts for the past few days. 
You know when you get a new item of clothing you JUST CAN'T WAIT TO WEAR IT!?!
That was the case with this dress; but as I mentioned before it was
a bit too tight
for my liking. So, in my head
I'd been playing around w/different ideas, thoughts on how to style it up, and just how I could get around this snug-fit factor.
It all came together for me, and thank goodnes, because I did not have all that much time to dilly-dally around considering I told Mel I'd meet her at 9:00pm.
(I am notoriously LATE everywhere I go, everytime I make plans, so I wanted to push myself to be ON TIME for once!)
Thankfully,
the quick idea to throw on a v-neck sweater
gave me the extra coverage I needed in order to feel at ease. But, the dress has a turtleneck detail, and with a v-neck sweater,
well it was a bit to reminiscent of 7th grade school pictures
. 
Not to worry, that's when a jacket becomes your best friend-
the boyfriend blazer brought the outfit into the NOW.
I threw on a watch
(which nevermind the battery was dead and it stayed on 8:25pm all night)
and my vintage owl necklace and I was out the door!
I met Mel
(might I add that I arrived early!)
at a new-ish bar in our neighboring neighborhood, Windsor Terrace. The bar was called
Double Windsor
. Not a bad place at all, I was rather pleased with the crowd, the service, and the ambience--therefore, I think I can manage to return there next time I don't want to stray too far from home
(for what surely becomes a "low-key" weekend).
And then we called it a night and I was in my bed, all warm and cozy, by a whopping 12:30am  
(Old Lady on a Friday Nite Alert!!!)
.
Saturday, 11/21/09:
Wearing:
(a lot of stuff!)
*Black faux leather bomber jacket-H&M
*Red satin print dress-To the Max
*Black jersey turtleneck-Thrift Store
*Black lace knee-high socks-unknown
*Black eyelet leather boots-Dr. Martens
*Brown faux leather satchel-Target
*Gold vintage cameo necklace-Thrift Store
*Gold multi-chain necklace-Forever 21
I met up with Mel again.  
We went to the 
Score!-PopUp Swap
to drop off some of our unwanted clothing in hopes of swapping it out for something else. 
I took that coat I promised to donate to a coat drive back during my
"Intervention Posts"
, as well as a never-before-worn Alberto Makali dress
(quite nice of me- It was a beautiful teal wool, and quality too!)
. In the end, all
I walked away with was a gray zip-up Banana Republic sweater, a burlap tote, and a pin.
(nothing I needed, just something I felt like taking away considering I donated 2 items of much better quality than the majority of the cast-offs at hand. Yes, I'm greedy!)
I think the highlight of our Saturday came in the form of the
impromptu photo-shoot
we played around with after discovering "The Wrong Side of the Tracks"
(as I like to call it)
--or just an abandoned caboose on some overgrown train tracks.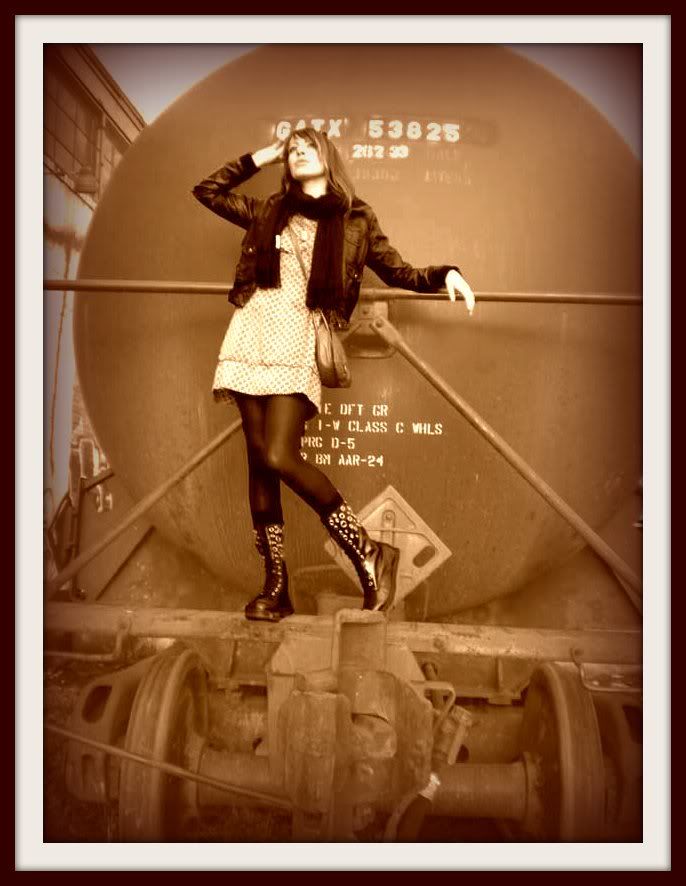 And speaking of "New Items of Clothing" (as mentioned regarding Friday's outfit), did you notice I FINALLY WORE MY new-ish DOC MARTENS?
I think I've determined
it's best to wear them with my short dresses.
That way, I can get over the fact that I'm wearing FLATS
(something I'm sooooo not used to)
, while combatting the issue of me feeling "stumpy" because I don't have my usual 3-4"+ height to rely on. Any ideas on how else I should wear them? 
I've tried skinny jeans, but yeah--STUMPY!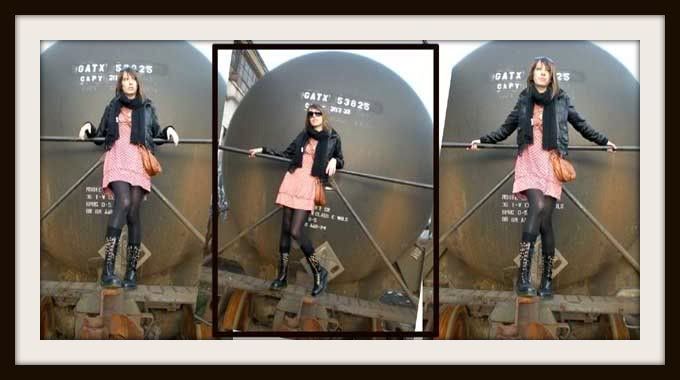 Wearing:  

(the pajama look)
*Black star-print hoodie-H&M
*Gray v-neck tshirt-Target
*Black scottie-dog print flannel shorts-Old Navy
Wowzas!  EEK!   Aaaaaah.....SCARY!
What's worse?  That I've done nothing all day long, skipped laundry, or the fact that I snapped this pic this morning, and
now it's 8:00pm and I'm wearing exactly the same thing!
 Ewwww...I'm a skeeze bag today!




Hope you all had a great weekend!