Since I am doing nothing of importance but sleeping and resting up this weekend, it's high time I bring you last week's well overdue
Weekend Rewind
.
Friday: November 6th, 2009-
Started out with an innocent trip to the movie theater after work. I was excited to see the new alien, sci-fi movie
"
The Fourth Kind
"
starring Milla Jovovich. Well Holy Shit!!!! Never did I expect to sit through a movie full of documented footage and audio of actual alien abduction(s).
I was wrought with agony for this woman, as well as on the edge of my seat with my hair standing on end--I have never been more frightened by a movie than this. I could not even find the words to describe how unnerved and shaken I was by the
very
VERY
disturbing
footage I had just witnessed.
Needless to say, I've now become a little freaked out by my insane owl collection and the fact that I've woken every night this week around 3:30am (you must see the movie to feel my unease).
Side Note: Since last Friday, I've managed to do some research to which I've found many attacks on this movie and it's authenticity.  To a point, it's made me rest a bit easier knowing that there is a good chance the footage is a hoax.  However, it still does not negate my belief in aliens, and the existence of life elsewhere.  But can someone explain what the heck is goin' on in Nome, Alaska already???
Afterwards, we headed over to a "new-ish" bar/club called Carnival.  
*Taupe satin jacket-H&M*Black t-shirt-Target*Black chiffon scarf-H&M*Skinny Jeans-Uniqlo*Black booties-Daffy's

It's a carnival theme, hence the name-complete with a lady on stilts, acrobats, a juggler.
And games...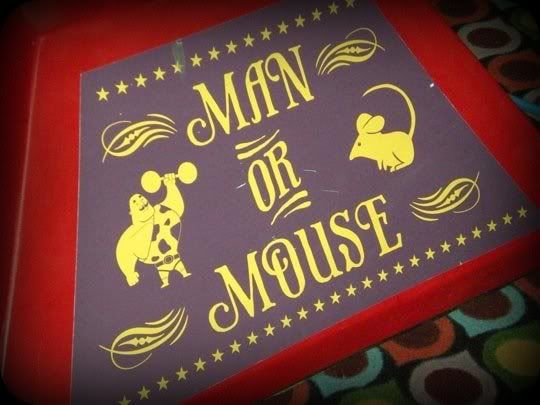 And Prizes...
(Photo of Bridget and her loot-tickets and bear.  Clearly I did not win anything or else my pic would be here)
To make the evening even more eventful, it turned out there was a movie screening in progress at Carnival.  Shortly after our arrival, the screening let out, and those VIP types came out to mingle and play w/the rest of the commoners.
Jason kicked his ass BIG TIME!
Another friend talked a bit about prizes with Marty McFly's mom--uh, I mean
Lea Thompson
.
And BF had the pleasure of spotting this girl, whoever she is????
(J/K guys, of course I know who she is)
By midnight I was feeling insanely tired.  We ended w/a diner dinner and a cab ride home.  And then I passed out, and passed out hard.
Saturday: November 7th, 2009-
I snoozed for well over 12 hours Friday into Saturday.  I woke up sometime around 1:00pm in the afternoon!  Wow, maybe I had a hectic week and just didn't realize it...or maybe there was something else deep at work taking over my body??? hmmmm, aliens?
When I finally woke up and started my day, I really just wanted to do a little shopping at Atlantic Center near my house.
(Lots of coupons to lots of the stores there, so shop till you drop!  Yeah!!!)  
I also felt like trying out one of my summer outfits for Fall.  I was not sure how well a cotton skirt would read w/a November appropriate wardrobe, but when out with no one but BF, why not give something different a try?
*White t-shirt-Target*Black chiffon scarf-H&M*Black elastic belt-H&M*Printed skirt-Forever21*Black tights-HUE*Black boots-Anne Kl
ein
Of course, who am I to go without a wardrobe issue of some sort?  This time, the skirt kept catching on the tights--even though I
WAS
wearing a slip.  But then the skirt would work it's way up higher and the edge of the slip would peek out.  Aargh!   
Whatever, I just kept my coat on the entire time I was shopping and no one was any wiser.
And shopping!  
ooooh, I hadn't been shopping in so long really, considering I grounded myself from unnecessary purchases throughout October.  So
I kinda went a little "KAR-A-ZEE!"
, but with the coupons I actually saved over 50% on everything I purchased!  Yeah, maybe I picked up
7 shower gels at Bath and Body Works
, maybe I bought
some new things at Victoria's Secret
, maybe I found a
cute $7.99 skirt at Marshall's
, and maybe I bought so
me spa foot stuff at Target
--so be it!
Finished the evening with Wings at BW3's and Saturday Night Live on the boob tube!  Then I passed out, dead to the world--for no good reason at all.
Sunday: November 8th, 2009-
BRUCE SPRINGSTEEN CONCERT DAY!!!!  
Oh how I'd been waiting for this day.....
(Thanks to peckpeckpoo@yahoo.com, whoever that is--nice footage)
My entire wardrobe that day was based around going to THEE concert.  I payed a little tribute to 'Born in the USA', or so I led myself to believe that's what my outfit was derived from.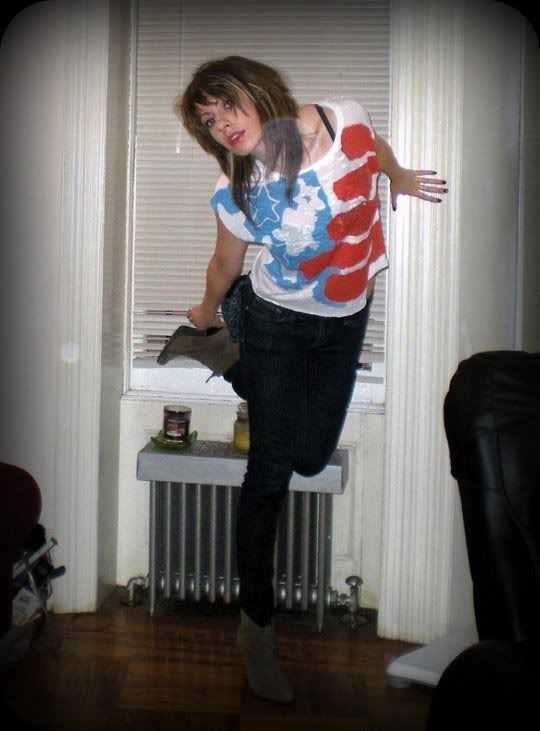 So I teased my hair a little moreso than usual, put a hankie in my back pocket, and threw on the American Flag tee.  I mean if ever there's a time to wear an American Flag (other than the 4th of July), a trashy see-thru crop top, and big hair--it's a ROCK CONCERT!  And my boy Bruce, he's well worth my effort!
Oh, but of course this is not exactly how I went out of the house.  While the temps were quite mild last Sunday, I still needed a jacket of some sort.  I chose the blazer I snagged a while back in the Boys' dept. at Target....yeah that works.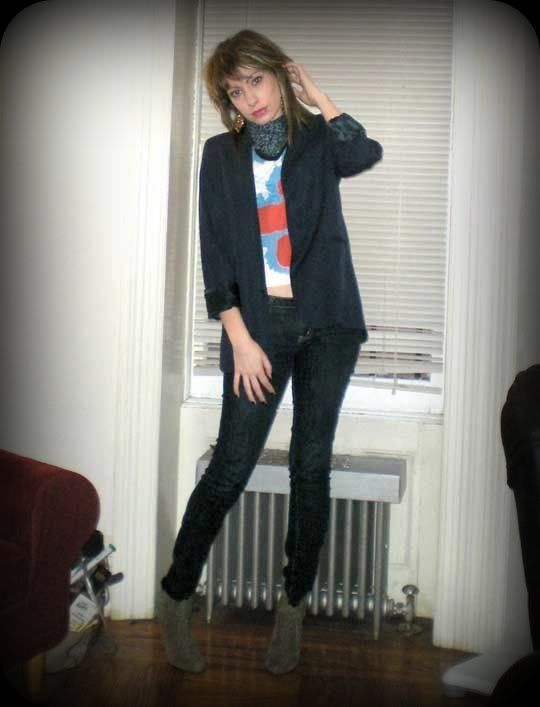 *Navy blazer-Target*White American flag tee-H&M*Skinny jeans-Uniqlo*Blue scarf-H&M*Taupe suede booties-Calvin Klein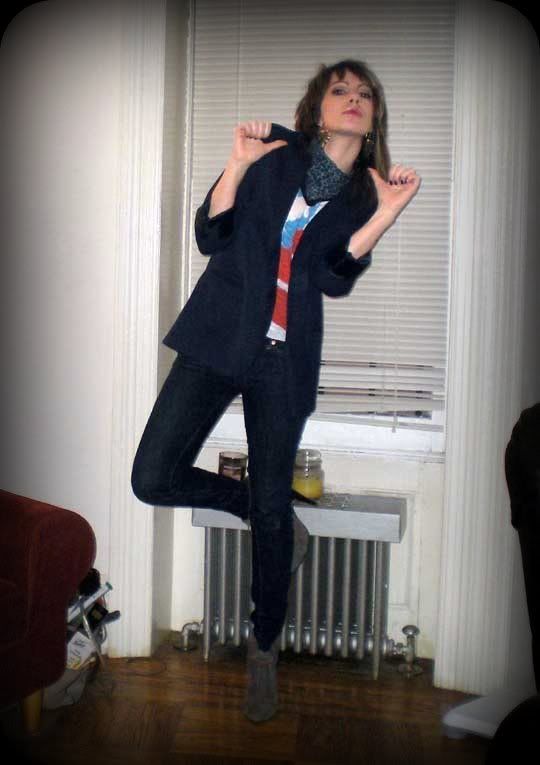 (Above: My "Thunder Road", 'Hey it's Me, and I Want You to Want Me' impersonation)
But, to my disappointment, 
The Boss never played "Thunder Road". 
Instead, this tour consists of them playing a different album in its entirety each night.  My night was
"The River"
 , while not bad, I couldn't help but feel I was missing out on a lot of the other songs I would've liked to hear.
But you know what?  It doesn't matter.....it was a great concert; or the first hour of it.  I don't know what the rest was like; I had to leave early.
Because around 9:30pm on Sunday November 8th is when good ol' Swine Flu rolled into Nickie-Town.
And then began the sickest week of my life
(not counting when I had mono for 3months when I was 19)
(And now I can't help but wonder if this was why I was sleeping so much the entire weekend?  And when and where did I pick this gross thing up?  Maybe shopping?  Maybe the movies?  God only knows)