I think this weekend was NYC's coolest so far.  Saturday was disgusting-I didn't even leave the house.  Today the sun was shining, but the thermometer was not rising.
As I've posted several times in the recent past, today was the Bust Holiday Craftacular
(FINALLY!)
But Brrrr.....I planned to be there when they opened at 10:00am; that means it's EXTRA COLD outside because it's still morning.  And all these factors
(early morning weekend, cold temps, crowded shopping experiences)
mean I gotta go for comfort and weather appropriate stylings. 
*Brown cowboy booties-Steve Madden
Ok, so
a shapeless oversized sweater
is not the stuff "cuteness" is made of....however, everytime I wear a
"let's sit and sip hot cocoa around the fire at the ski lodge"
type outfit I always feel my prettiest.  
-Maybe because I'm not tugging, fidgeting, complaining, etc when outfits like this are at hand.   -Maybe it's because I feel a bit more classic, more down-to-earth, more all-american (like I could be relatable to any other small-town girl).
-Maybe I don't know exactly WHAT it is that makes me feel I'm at my best, but there's just something about a cozy outfit like this that makes me feel so good about myself.  And it's not even special...but you know what?  That's ok...btw, big sweaters on chilly days get me really REALLY really into the Holiday spirit.  After the craft fair I had to run a few more holiday-type errands and it was very exhilirating, and just down right fun! 
Mel and I also scored the very last two goody bags
(only the 1st 500 people got one)
.  My pal Bridget chose not to take a half emptied, left in shambles swag bag, because she felt she cut in line and it would not be fair
(I could probably stand to take lessons from Bridget and her courtesy).
Lots of loot inside--I kinda split mine with Bridget because honestly, half that stuff just sits in my bedroom and goes nowhere anyhow.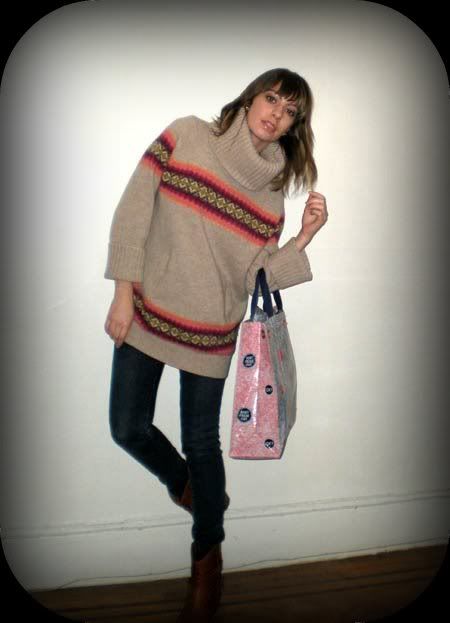 Soooooooo, what was my favorite treat in the goodie bag?
This necklace of course!  
Funny that it's so perfectly engraved for ME...Ok, so "MINK" and "MINX" are not really the same animal-but they sound like similar creatures when spoken outloud
(at least this is my rational for my email address on the side bar vs. the title of my blog)
All in all it wasn't the best of my craft fair experiences, but it wasn't the worst either.  A lot of it is starting to look the same year after year.  I think I've seen it all before.  Sooooo, I picked up some unique gifts for a few friends
(can't post the cute gifts on here, friends read blogs afterall)
, and bought myself a cute pair of stud earrings from
Erica Weiner
-she's got very charming, unique jewelry well worth a quick gander.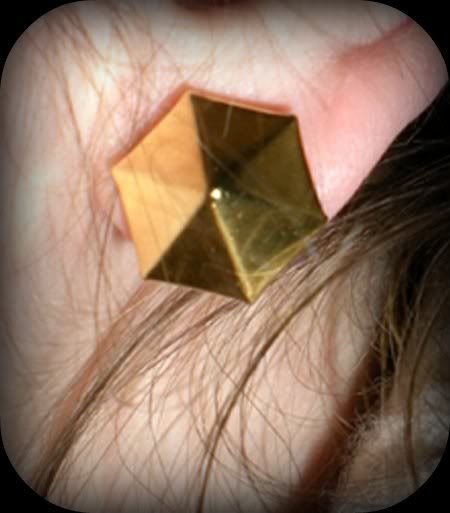 Oh.....and I failed to toss up my 7 "Haute Mess" award nominees although I said I'd do it today. (see yesterday's post).  Sooooo I promise to edit soon and have those names up.  And I'll be contacting/leaving comments for you fab nominees ASAP.
Until then.....g'nite!