She's Pulling Out all the Props
a vintage dress calls for a vintage suitcase of course
-Don't you guys walk around your house carrying luggage too??

Ok, ok...onward w/this post:
If only there was some way to get rid of the horrible "scratch" factor that ensues when wearing that horrible polyester of yesteryear.   When going this route, I always try to layer up as much as possible so my skin is not irritated by the texture of the garment at hand.

-I went about doing just that with some thick wool tights and a slip.  
Yea, no case of the itchies!
So, why am I knocking the dress, but still choosing to wear it, right?
Well, let's see...
-I like the mix of print and color-blocking
-I like the silhouette, especially the A-line skirt
-I LOVE that Black, Brown, and Ivory are combined into one
(sometimes I think I'm the only one that digs black and brown together)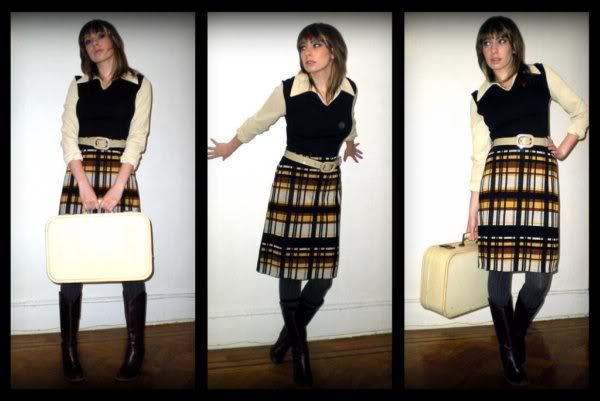 If one thing this old polyester is good for, it's good for some warmth.  I was out last evening doing holiday shopping in the bitter chill of the Northeast...yet I stayed pretty warm and I have to admit it's because of this dress and my thick tights.
And the whole reason I have this suitcase out, well it's where I store my tights/stockings.  And obviously I'm wearing tights, so it had to come out of it's little holding spot. 
It's a nice item to have on display, while multi-tasking as a clever hiding spot for my hosiery.
Side Note: this suitcase belonged to my grandma.  When my grandpa died a few years after her, we went about sorting his belongings.  As I came across this trunk, I instantly claimed it because there was something about it that could easily transport your imagination into a different time.  I filled it with a few more keepsakes from his house, and that was all I needed to take back in order to keep their memory with me.  I decided to take the suitcase as my carry-on when coming back to NYC from the funeral...clutching it in the airport made me feel like a glamourous traveler on holiday, with her little trunk of essentials.  And something about it, holding it in my hands walking through the airport felt vaguely familiar.  So....is it wierd, pure coincidence, or meant-for-me to own, when my mom told me as a little girl I'd always pull it out of the front corner of grandma's bedroom closet and pretend that I was going on vacation, far away.  Supposedly, I'd walk up and down the wood-floor hallway, swinging it to-and-fro; after hearing that, I'd like to believe it was meant for me all along--but regardless it means way more to me than just being a vintage suitcase, it was my grandmother's. (maybe it's silly, maybe it's just an old piece of luggage, maybe it's of no monitary value...but it's priceless to me)
And quite honestly, the size is soooo small I'm not sure how she could've managed to pack anything in it that would get her by on an overnight...I can safely say if she did use it for travel, I definitely did not inherit her genes for practical packing.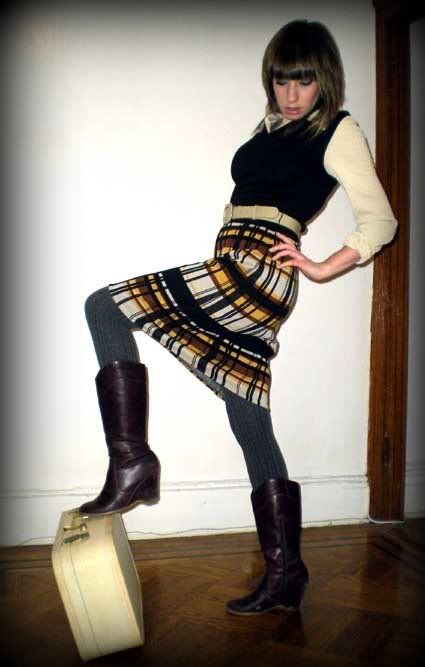 *Plaid vintage dress-Love Saves The Day (NYC location, now closed)
*Nude patent-leather belt-NY&Co.
*Brown wedge boots (very beat-up and ready for the trash)-Old Navy
*Vintage suitcase-Grandma's