Before the holidays I had the privilage of making
Dusty Rose Vintage
's acquaintance.
(Although I must admit much thanks for such a meeting is in due part to my friend Mel and her past work with Dusty Rose.)
All I know, it's a great honor to be chosen by Dusty Rose as their next "collaboration/project", or whatever we call these types of get togethers :)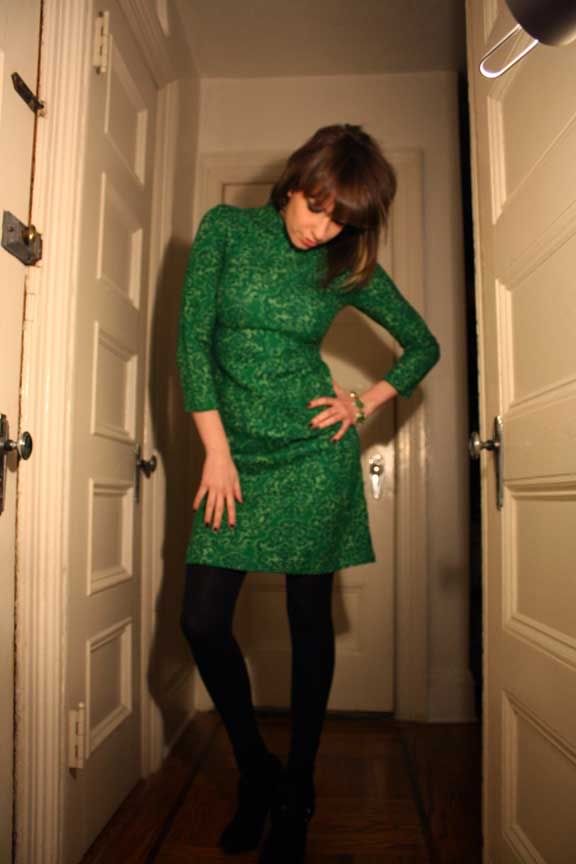 Having the opportunity to work with Dusty Rose Vintage was a wonderful time!
I mean
vintage
,
racks and racks at my choosing
,
dressing up and spinning around in front of my camera
for hours and hours--pretty sure that's right up my alley in terms of things "I love to do!"
-Black suede/patent-leather shoeties-BCBGgirls
-Silver vintage bracelet w/green stones-Thrift Store
(ah the fun of vintage in a modern-day world, all the possibilties of what to pair it up with so the entire look will transition into real life w/ a retro spin)
With each garment I styled up for Dusty Rose, I imagined myself in a different world, a different time, a whole other era.
This dress made my imagination run wild...

--Thoughts of

what I would be like if I lived in the '60s

(would I choose the free-lovin' flowerchild attitude, a mod look, just what??)

--

Where I'd be jaunting off to in such a lovely get-up

(shopping? a friends' house? work? Probably work--maybe I'd be a secretary, afterall I type like a mega-million wpm!)

--

Who the woman originally in possesion of the item was

(I think she was petite, pretty, probably poised and polite--all those things that make for a classy lady).




All of this was just one more reason I was really eager to get to work on all the vintage goodness they had in their studio. I just adore when I have an opportunity to momentarily escape reality, just by donning a piece of clothing. (Kinda like Halloween, only with an everyday approach, keepin' the costume-y factor on the D-L)

____________________________________________________________________
Now
(it's getting late, even for a Friday evening at home)
so I encourage you to experience similar exciting thoughts, my imaginary flash-backs, and whatever else you come up with, simply check out
Dusty Rose Vintage on Etsy
...
Not only can you find this 1960's dress, but you'll find a whole slew of amazing vintage items.
Such a good selection you'll find it easy to shop, but hard to stop!