No weekend rewind, no brunch with the girls, nothing but laundry for me this weekend.
And what a pity!
I sooooooo wanted to do brunch with my gal pal blogger buddies.
Instead, I missed all the fun, and spent my time
(starting on Friday @ 10:30pm)
split between my bed and becoming acquainted with the cold floor of my bathroom.
Oh what fun a stomach bug brings about for the weekend.
Not sure if it was something I ate, or a virus, or what? blek!
I finally emerged to do my bi-monthly laundry chore. Not my idea of a fun weekend at all :(
And with what I wore, I couldn't help but feel a bit like Daria.
Just change around the colors, switch out my contacts for my glasses, and yep--there you go.
Remember that cartoon, late nineties right?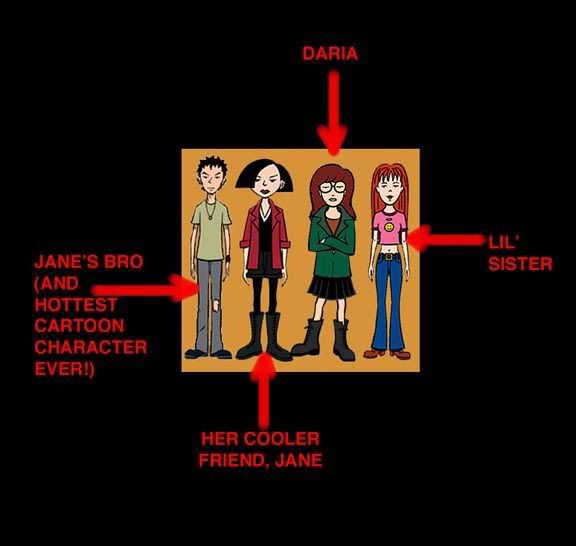 That cartoon was probably the best thing that ever came out of Beavis and Butthead-although I must say Beavis & Butthead, in itself was pretty genius!
You know, if you like metal videos and stupid teenage boys.
(did I mention I wasn't allowed to watch it but lil' bro and I would sneak it anyway? Oh rebels)
I always thought her BFF Jane was the coolest-and Jane's brother was the hottest
(I'd like to think my ex boyfriend when he had black hair slightly resembled Trent...maybe not, I'm dillusional sometimes
-and I'm also admitting I dig cartoon dudes)
As for Daria's little sister, she was just a brat.
(probably like I was in my role as "little sister")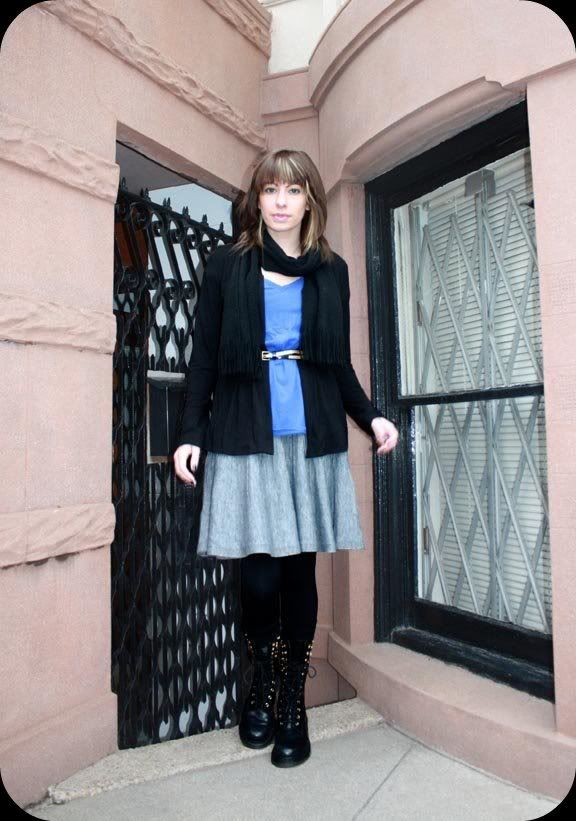 So yep...laundry day was my big weekend event.
And after sleeping almost 40 hours this weekend
(who am I, Rip Van Winkle?)
I thought I should take a shower and put on a skirt and get on with life.
Next weekend, I'll make up for it somehow, for sure.
Wearing:
*Black leggings-Forever 21
*Black/gold belt-Forever 21
(And yes, Adriane, if you're reading this-I am only hearing echoes of Bogee's voice in my head attempting a very lame version of the Daria theme song)