Being the good lil' blogger that I strive to be, I clicked on her name and went to check up on her blog and leave a comment right back at her.
(now I know I'm way behind on doing this with most of my readers who take the time to comment-I do apologize, but life is a bit crazy busy for me right now. I do wish I had more time to go and click on everyone's blogs and comment away like mad. Unfortunately there are only 24 hours in a day and I've got about 2 hours of that day as "blogging/free time". But ladies and gents, I do really appreciate your comments and I will try moreso to get back to
you with comments of my own. Just stick with me and practice a little Patience-cue the Guns N Roses now
)
.
Oh but yes, so I went to
Little Ocean Annie
, found this adorable girl with great fun style, and as if that wasn't nice enough, she was having a
giveaway
that particular day!
Now I'd like to chalk up the next little tidbit of info to pure karma--
After reading/finding she was giving away some lovely vintage goodies, I immediately entered.
and......
I actually freakin' WON the GIVEAWAY!!!!
Having just received all the loot yesterday, I took it upon myself to put it all on at one time, the moment I got home.
(Would've worn it all the moment I opened the package, but let's face it...my outfit was not all that great, especially for trinkets and treasures at this level of cuteness!)
So here's what I got:
-The googly eyed owl barely larger than my squinty eye
(pretty certain I have a thing for vintage owls so I couldn't be happier)
-Floral print scarf, so perfect as a kerchief around the neck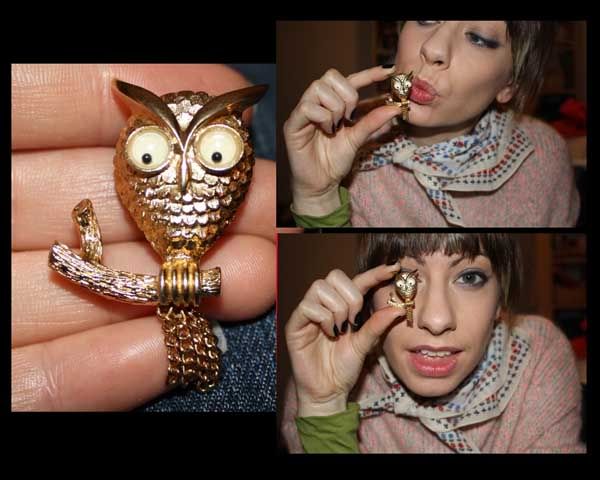 -A vintage Beige reptilian textured purse
(supreme perfection for Spring and the neutral trend I swear I'll give a try one of these days)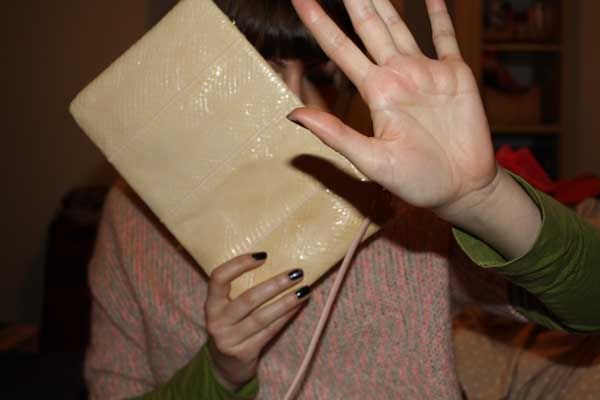 It's got a cute little pink leather strap, however I think I'll use it as a clutch.
And as if I needed anything else to make my day even better...
well Annie took it upon herself to throw in a
"BONUS"
.
I think I might've told her how much I love owls--um, maybe one too many times.
And when I opened her package, I found this lil' guy!
Seriously, could she get any nicer???
I LOVE IT! Thanks Annie!!!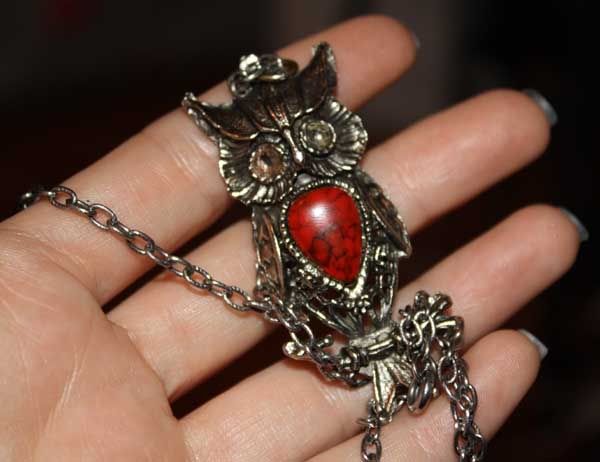 So when I'm not wearing my new owl(s), the necklace will lie safely amongst his own kind in my drawer solely dedicated to nothing but this avian species of jewelry.
-Let's not forget I just had a whole
POST
on my obsession with owls not too long ago.
So thank you-thank you for feeding my NEED for more more and more.
Yep, it's official--I heart Annie.
She's a sweetheart for sure.