Part Two of the Weekend Rewind:
The Outfits!
Friday: February 12, 2010
Rough Night out...came home too late after a long day of work.
And this photo, everything about it, it explains the state I was in-
fuzzy, poorly focused, messy, too much clutter in the background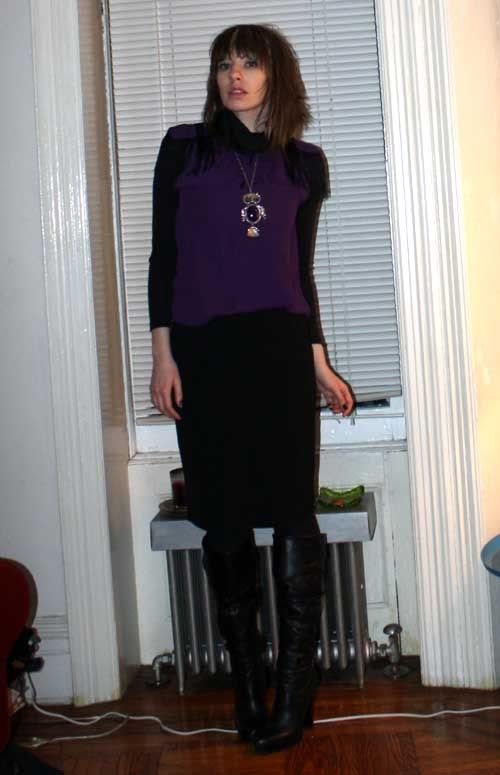 If only I had managed to have one of the blogger ladies to take an outfit shot at Three of Cups I could've refrained from what I've posted here. Too much fun meeting them to stop and ask if someone would take my pic though. I'd feel too silly at such a request, even if that's what we're all into, no way could I have posed in front of semi-strangers and gotten much better results.
*Purple blouse w/black fringe-BCBGeneration
*Black turtleneck-thrift store
*Black pencil skirt-H&M
*Black opaque tights-Hue
*Black boots-Jessica Simpson
*Silver vintage owl necklace-Thrift Store
Saturday
(morning/day)
:
February 13, 2010
Off to breakfast with some of the blog girls
(see previous post)
Then onward to the Chictopia 10 Conference.
*Black 3/4 sleeve jacket-H&M
*Black dress-Nicole Miller
*Printed fringe scarf-H&M
*Black/Gold skinny belt-Forever 21
*Black boots-Jessica Simpson
*Gold bangle bracelets-Forever 21
*Gold vintage earrings-a past bday gift
(thanks Laurie!)
Saturday
(night)
:
February 13, 2010
Chictopia 10 afterparty @ the Tribeca Grand Hotel.
(Don't forget if you want to join Rent-the-Runway, it's invite only...so go
here
)
Too bad my dress was a size too big in the waist and hips--darn ill proportioned body of mine!
It bothered me all evening that in reality a dress like this should've been altered to fit skin tight. It's a pity that I had to return it, therefore being unable to snip and sew, pin it, fix it.
Subtleties like this make me fidget all evening-it really bothered me, I hope no one noticed.
*Black vintage velvet jacket-Vintage Store in Kalamazoo, MI
*Gray optical illusion dress-Robert Rodriguez Collection
*Black patent-leather maryjanes w/crazy heel-Jessica Simpson
*Silver chain necklaces-H&M
*Silver vintage necklace-Thrift Store
*Silver sequin cuff-Wet Seal
Hey Jess--clearly I'm a fan of your shoes;
as silly as it may be to admit to liking something Jessica Simpson related.
But your shoes--they're fun, comfortable for all their height, and never a blister!
More please!
Sunday: February 14, 2010
(Valentine's Day = Laundry Day)
As I already mentioned, BF let me down...so I saw no reason to get all spiffy in hopes of a dinner or movie, or flowers, or chocolates.
Instead, it was me and the laundromat.
Curious, as I've always been about this subject, but what do you all wear for laundry day?
(or do you wear your pjs cause you're lucky enough to have a washer/dryer in your place?)
The Valentine's Day Outfit
("hopelessly romantic" I know-psshhha!)
:
*Gray chunky sweater-who knows
*Brown cowboy booties-Steve Madden
-AND NO BANGS--YIKES!
(Large Forehead Alert: could be as bad as my Friday nite outfit pic...sorry)