Today was a bit of a girly-girl day in terms of dress.
It's the silk, the lace, the chiffon, the pearls, the pale blush tone of the skirt, my cupcake pink lipstick,
It's all way girlier than I've been in a long time.
It's ok, sometimes its good to remind myself that next to black, Pink IS my fave color
Yep, believe it--the more "Barbie-pink" the better too!
(I should do a post on Barbie, hmmm--lots of good stories tied up there w/me and my Barbies)
I don't even know where to begin,
other than I think I'd like to start dressing like this more often than not.
I've been wanting to try out nude tones for a while
and this pale of palest pink skirt was calling for my credit card--so I bought it.
It's such a light pink blush color, it almost just looks off-white
(such as in my poor excuses for photos)
I think next I'll try to remix it with some pale neutral colors for a springier approach-that'll have to wait until after this Sunday's laundry day though.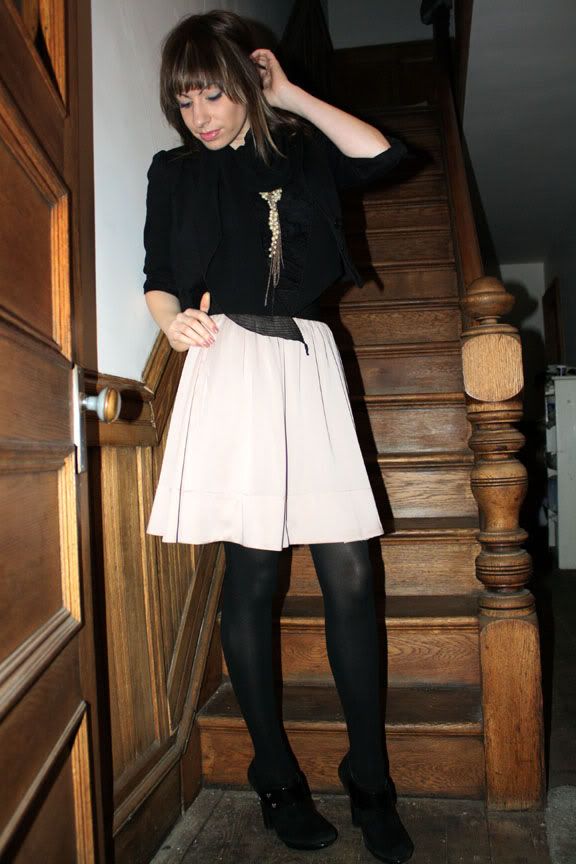 WEARING:
*Black lace blouse-I.N.C.
*Black suede shoes-BCBGgirls