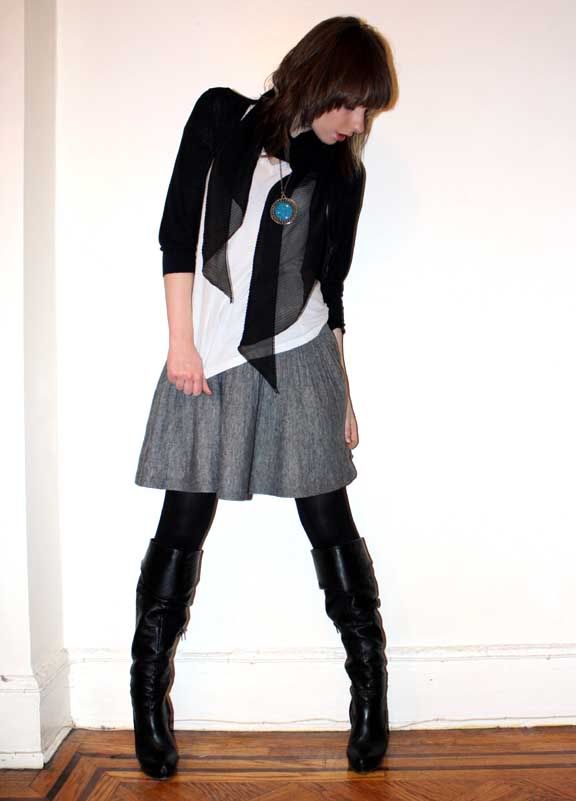 I was running late today; thanks to my snoozing and constant dream-like state I couldn't get out of. What a haze when I woke up.
I threw myself together a bit more hastily than my usual so-called haste
.
When time is short, a t-shirt is my way to go.
And a simple color palatte too.
It all turned out ok.
Despite leaving my house 5min later than usual, I still managed to get to my destination at my usual time. Usual time being 5min. late. I can never be on time, try as I might.
It's a vice I always tell myself I've got to remedy.
Any tips?
(I've tried nearly everything: picking my outfits out at night, doesn't work-back to throwing things together in the morning. I've tried setting my clock 5min fast-doesn't work-I know its 5min fast therefore I snooze 5 min more. I've tried not putting on as much make-up-doesn't work, I play with my hair moreso instead. What can I do???)
Ok, so its not the end of the world. Just something to work on.
Once the day got underway, it was as it always is. No worries about my 5 min tardiness. And its expected at this point in my life.
After work, I trekked over to the camera store where a nice guy helped me get some film for my new Diana camera. He asked me a few questions, which I could not answer because I am beyond dumb when it comes to me and my cameras.
Luckily he was kind enough to offer up his time if I ever have any questions--as long as I agreed not to ask about anything related to the camera store.
DEAL!
(You know who you are camera-man, so look out--I might bombard you with questions and constant ramblings)
Then my dear ol' pal Mel asked me if I was still in the area (we both work in the garment district of course; our offices are 2blocks apart to be exact). And yes, yes I was still in the area. So we got together for a quick lil' dinner and some catching up/girl talk if you will.
By the time I got home, I was looking WRECKED!
and now I'm tired, ready for bed. Ready to wake up and do this all over again.
Surely I should learn from today's snooze-fest, but I'm willing to bet it's going to happen the same way all over again come 7:00am.
I did it all while wearing:
*Black boots-Jessica Simpson
*Silver vintage necklace-thrift store
Oooooooh tomorrow is The Runaways! And the high is 70 degrees.
Wish me luck that I wake up when my alarm goes off so I can maybe have the time to survey my closet and put together something weather appropriate and tinged w/a hint of Joan Jett.
Um....ok, we'll see about that one; I'm going to work-how "rock n roll" is that? yep, not much.