What a fun weekend!
Friday=The Runaways
Saturday=Dusty Rose Vintage photoshoot
Sunday=Breakfast and Shopping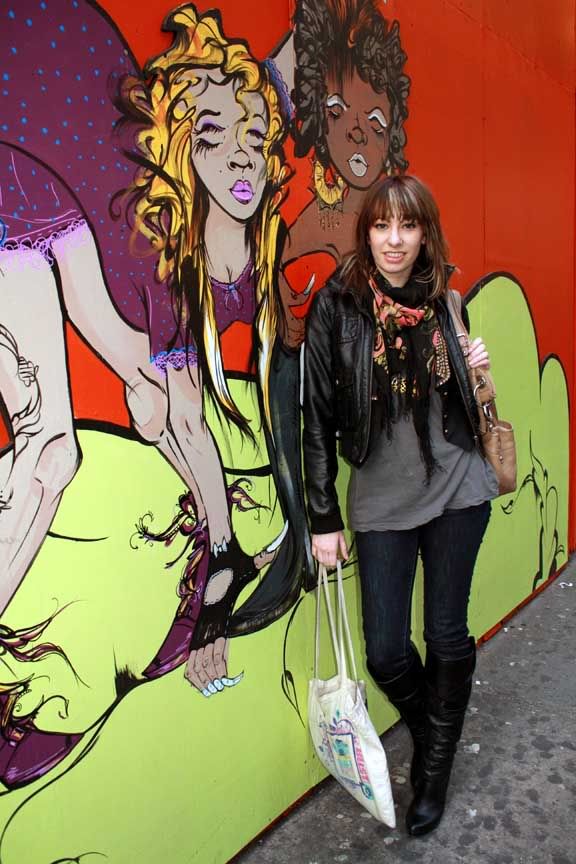 I've been talking about it for nearly a week, and the big day finally arrived.
The big day= going to the movies for "The Runaways".
Holy schnikeys! What a good movie. Good if you like that sorta thing.
And pretty much the only thing that could've kept me from liking it was the cast.
But let me just tell you...Kristen Stewart nailed it!
I don't care what people say about it, all I know is I will finally give that girl a break.
It's official--I like you, Kristen Stewart!!!
(unfortunately, I do not feel the same about lil' Dakota Fanning. She's just a bit too innocent and still a bit too child star-esque in my mind. I'll never be able to shake that notion for sure.)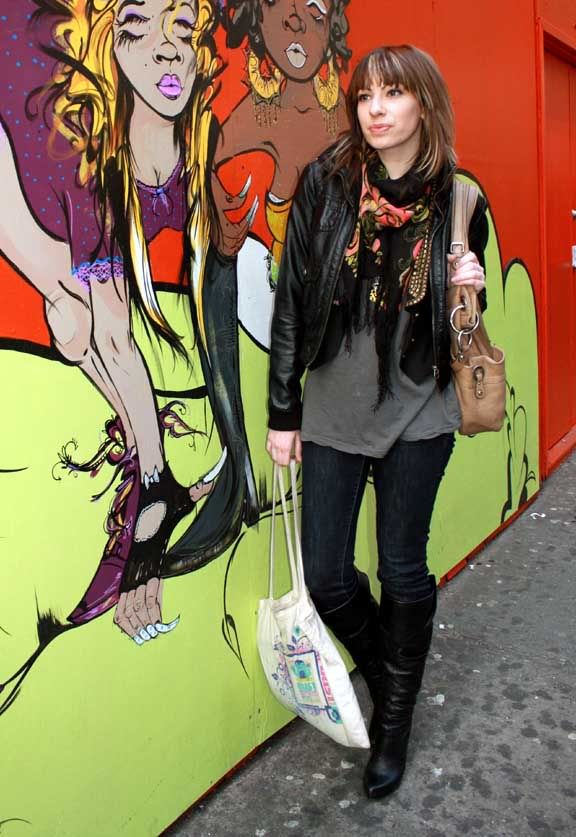 Wearing:
*Black studded vest-Aryn K
*Blue skinny jeans-Uniqlo
*Black boots-Jessica Simpson
*Gold necklace-Forever 21
As I look through my weekend, I'm realizing it was one of many layers...I really just kept piling it all on. Starting with Friday; the t-shirt then the vest then the necklace(s) then the scarf...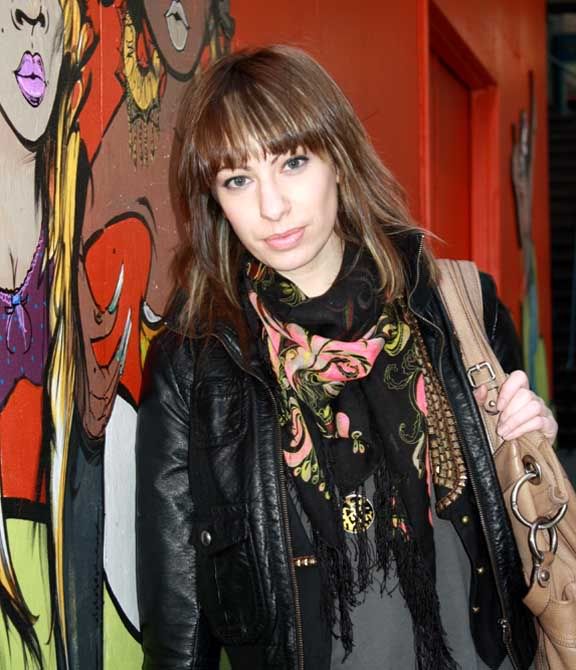 Saturday: March 20th, 2010
We needed some grub and cocktails in our system for what lie ahead...
Once we were full in our bellies, and the cocktails had us giggly, we headed over to Dusty Rose's studio for a photoshoot
(more on this + photos + lots of laughs to come in the following days...stay tuned)
Wearing:
*Blue chambray blouse-Forever 21
*Cream knit dress-Urban Outfitters
*Multi color mesh print leggings-Jean Paul Gaultier
(for Target)
*Chartreuse fishnet ankle socks-H&M
*Beige snakeskin peeptoe booties-Rachel by Rachel Roy
*Cream vintage belt-Thrift Store
*Red beaded necklace-Forever 21
*Tortoise shell shades-Old Navy
Saturday was such a beautiful day, lovely weather, and full-on SPRING!
I chose not to go overboard with the "summer-time" threads...I mean its still March.
Let's not get ahead of ourselves.
So I layered in lightweight items, but brought my jacket just in case.
I did let my leggings and the peep-toe booties make their debut.
I was a little worried about the comfort-factor of the booties; I knew we'd be walking around a bit. But we all know me and shoes don't do practicality all that well. What am I supposed to do...I don't really own any flats, especially any that would work with this outfit.
In the end, plenty of walking did occur and I'm happy to report those shoes are pretty comfy for what they are. No complaints from me!
I'm smitten with these booties.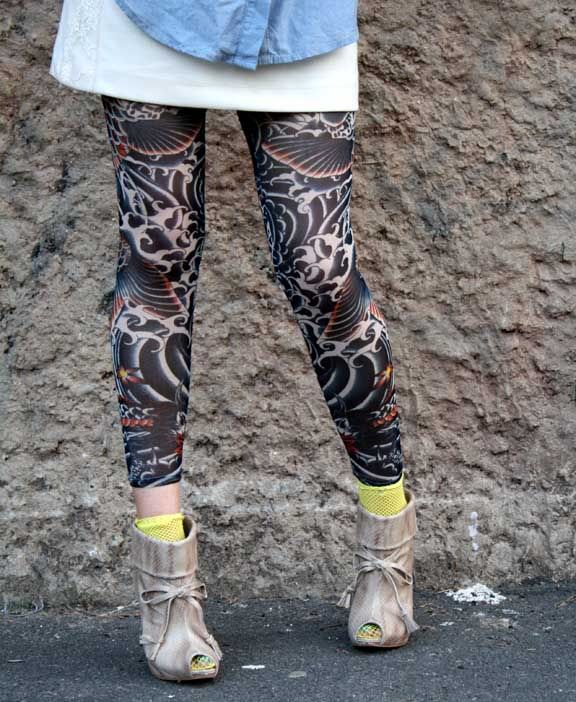 Sunday, BF and I decided we needed a "big breakfast" as we like to call it.
Basically, "Big Breakfast" just means we gorge on lots of hardy breakfast items, toast-sausage-bacon-omelettes-loads of coffee, etc.
However, if I was to partake in "big breakfast" I was told I was not allowed to shower because I take too long getting ready. Nice, BF--thanks.
But
a little dirt and grit isn't going to keep me from "big breakfast",
so I took one for the team
(what team am I talking about???
)
and I just poofed up the hair a bit and threw on a few items I've worn throughout the years.
(to the point that I don't even have to think about what goes with what...I've been wearing the scarf for instance since I was 21, same for the t-shirt. And the outfit is such a no-brainer for me because I've been doing this look since I was about 21. Not sure when that time will come when I rid my life of some of these items that I hang onto forever??)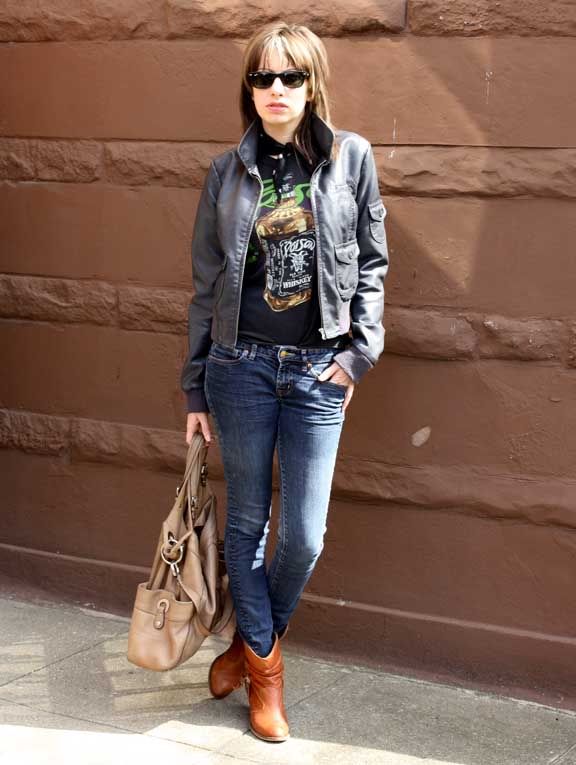 Almost immediately after "Big Breakfast" was over, Mel texted me to see if I wanted to hit-up Target with her. YES PLEASE!
Who doesn't love a trip to Target?
(Apparently the city bus doesn't love it, as I waited for over an hour to take it to Target...aargh! I hate you public transportation!!)
After Target
(no score on the Liberty of London goods--everything in stock was too big)
, we headed over to Urban Outfitters. I do have to say, I need to put a stop to my excess spending. With this warmer weather, I'm in the mood for a brand new wardrobe, and it seems I cannot stop buying skirts!
I bought 3 new skirts at UO!!!
And I can't wait to wear them all-but honestly, I do NOT need to be buying this stuff.
(But do we ever really need to be buying what we buy? No. I'm a shop-a-holic, I don't know what else to do with my free time. Ok, I know what to do with my free time, but I don't want to do chores, sewing, cleaning, NO WAY!!!)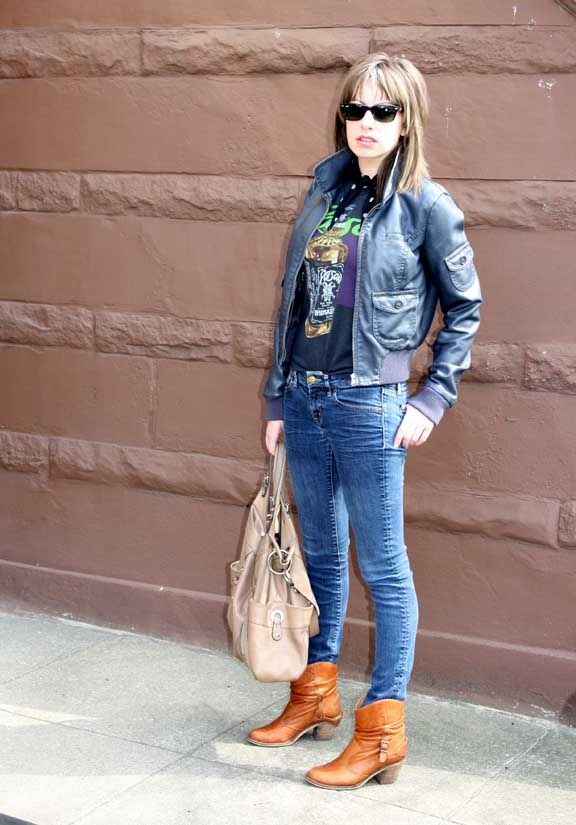 Wearing:
*Black vintage concert t-shirt-Thrift Store
*Blue skinny jeans-Uniqlo
*Brown booties-Steve Madden
*Black polka dot scarf-Express
Hope everyone else had a splendid weekend. I'm assuming its Spring-like almost everywhere, at least a little bit, no??? I hope you all got out there and enjoyed it!