I think this outfit pretty much took inspiration from one of the many magazines I read cover to cover during everyday's commute. Therefore I cannot remember exactly which publication I saw this in, but I am wanting to say it was Lucky.
Maybe, who knows??
It doesn't matter where I saw it, because it's so obviously a ME outfit.
It was the Ramones shirt I saw in the mag that did it for me.
I thought, "hey, where the heck is my Ramones tee??? Haven't worn it since I was maybe 25"
Being as how today was a work day, I think I should "try" a little harder than just a t-shirt.
In previously mentioned inspiration pic, she was wearing a jacket too--although now that I think about it, it was a whole spread about wearing boyfriend jackets and concert tees--
duh! That's a no brainer-
I'm a girl with hordes of rock tees and a fervor for trends like BF jackets!
I don't really need advice on that outfit combo-but thanks.
Yet today, I didn't want to go with my boyfriend jacket, the colors of the ones I own are too stark against this neon green tee.
So I pulled out a new blazer. It's a light gray, short and cropped sleeves, and fits pretty well.
Perfect! My way of "pulling myself together"
(disclaimer: this is NOT my actual house--this is the stairwell/hallway before you enter my apt., my place is NOT this dirty. Cluttered yes, but not as dirty)
Of course with this t-shirt/jacket combo, skinny jeans make the perfect compliment.
And no surprise here, they're Uniqlo jeans.
It's no secret-I LOVE MY UNIQLO JEANS
-They fit my body type pretty freakin' well
-They're super affordable-these were only $20!
-The rinse is a perfect dark denim shade, no?
(BTW-I have numerous pairs, so in all these posts I am not wearing the same ones day in and day out. Although what does it matter, I also blog about doing laundry like every other week. But yeah, just thought I'd let you know that I'm not wearing the same pants every single day of my life--ahem, although I know a few boys that do just that. Not mentioning names)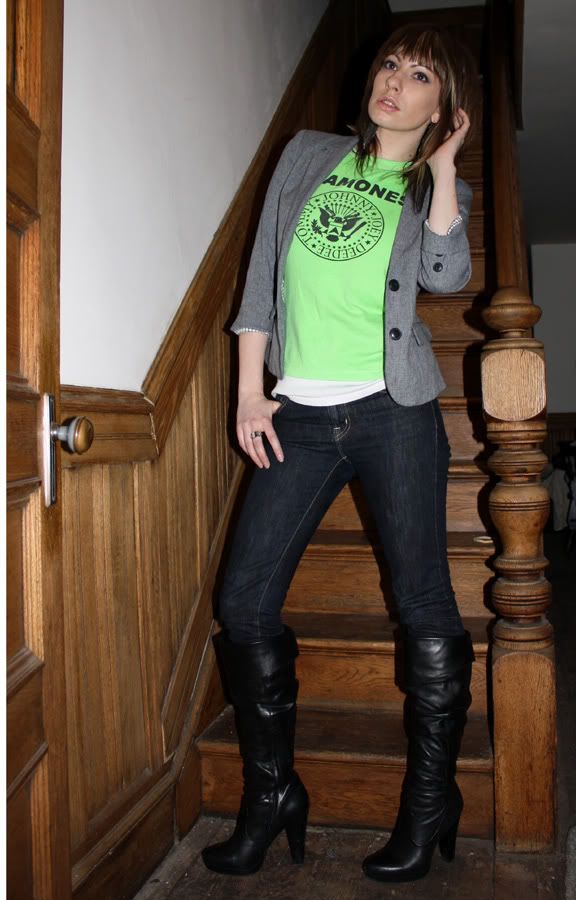 Put on those guilty-pleasure shoe purchases
(that would be me and Jessica Simpson shoes)
,
and a few of my new(er) rings-since I'm trying to get into wearing rings.
And I'm ready for a low-key, yet "stylish" day at work.
(thank god for these creative industry jobs--that's all my wardrobe and styling abilities can say)
*Gray blazer-Urban Outfitters
*Neon RAMONES t-shirt-Urban Outfitters
*Dark skinny jeans-Uniqlo
*Black boots-Jessica Simpson
*Silver engraved ring-gift from friend
(thanks Kris)
*Silver sculpted ring-Forever 21