I had today off, due to Passover.
And when you don't celebrate such a holiday, its just a free day then.
Unfortunately it rained all day-and it kinda put a damper on my plans.
So I stayed inside, only ran to the grocery, and didn't even have a chance to get outside for real outfit shots. Boo!
(Kinda a waste of a day, considering I rarely get an opportunity to make it outside to capture my daily outfit)
I did however, get my Swap-Shop organized.
What, what's that you say? A "Swap-Shop?"
Yes, its true--you soon will have the opportunity to swap your life with mine, ah hahaha, ok not really. I wouldn't trade you my life in a million years
(I'm pretty fond of what I've got going on for myself actually)
...but I will gladly trade you some items I no longer need in my life.
So please, hop on over to
SWAPPY SECONDS
and get acquainted with my "rules" and "ongoing wishlist".
Then,
we can start swapping as soon as I post some loot.
Let's see--rain, overcast skies, gloomy weather;
yep, perfect opportunity to brighten things up a bit.
I think
I should start wearing red
more often.

(I don't really find myself drawn to it though, hmmm...that could be a problem)

I do have several pieces in this tomato-red shade, a bit on the orange-y undertone side of things. I always see myself as more of a cool tone girl, thinking that I have to stick to the blue undertones of cherry reds. But come to think of it,
I usually do like the outcome
on the rare occasion I wear one of these warmer toned red shades. So yeah, I should probably try this color more often.
Unless, you suggest otherwise-then I'm open to hearing what you think.
(Although, let's face it, I'll listen but most likely will still do what I want)
So what's your take on red?
It's sometimes a difficult color, right?
Do you like it-hate it-never wear it-love it?
*Red vintage dress-Beacon's Closet (Park Slope)
*Black leggings-Forever 21
*Brown wedge boots-Old Navy
______________________________________________________________________________________
You saw that
Mel and I went to see She & Him last night.
Calm your jealousy people--while the concert was pretty rad, I'll have you know the venue smelled like an indoor pool and the beer smelled like a stink-bomb. Uhhhhhhhhh.
Oh, but for those living under a rock

(and I know how that goes, so I'm not poking fun at you)

-She & Him is a girl/guy band made up of Zooey Deschanel and M. Ward
(and yes, Mr. Ward-I accept your hand in marriage! Vegas, tomorrow? Sure!)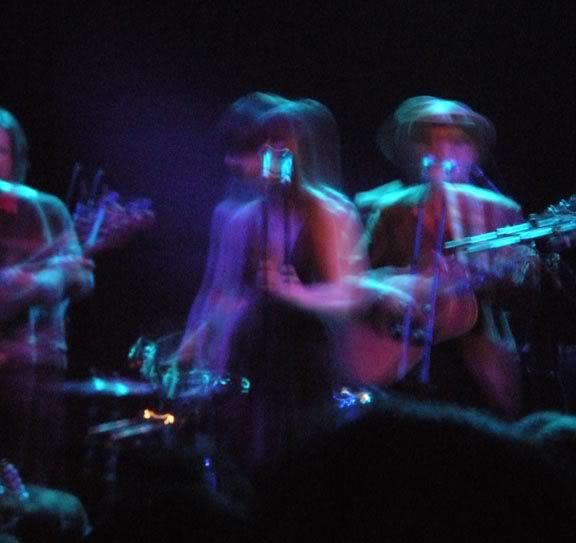 Sorry about the fuzzy pictures-no photography allowed at the concert!
Well that didn't stop us from taking some shots...sooooo sneaky I know!
Follow my blog with bloglovin