I had a pretty laid back weekend. How was yours?
Today was the first day I did NOT wear pajamas in what would've been 1 full week!

No, no, I wore pajamas to sleep in of course--I meant that it's the first day I wore regular clothes for day wear.
I mean, for the past week I didn't even see the light of day, just spent it in bed resting and being sick. And as I began to feel better, I had to play catch-up w/all the things I didn't get to do at work. Lucky for me, BF stopped by work to pick up some of my things so I could do some homework.
And that's exactly how I spent Friday and Saturday...doing homework, in PJs.
Homework for me consists of sketches, sketches, and more sketches--in total I did about 40.
That's more than I get done in a week of being at work!
(You know how work goes, it's a whole different ball game actually BEING IN THE OFFICE)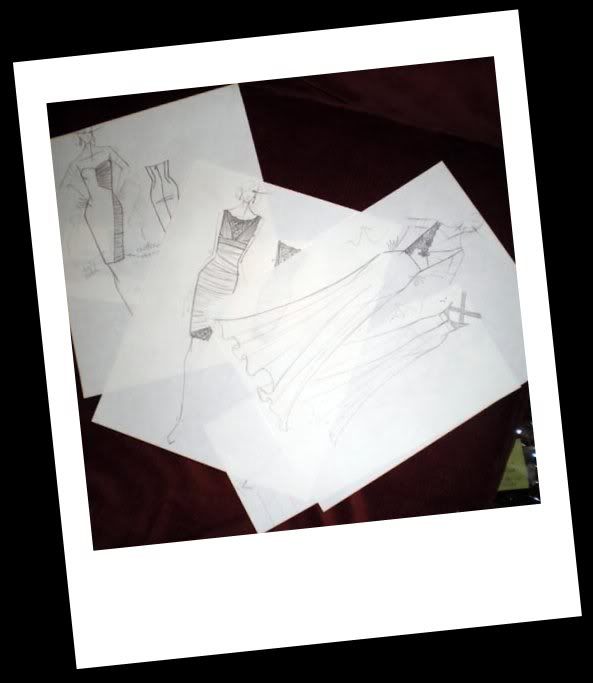 And as sad as you all are at this, I will not be posting Friday and Saturday outfits. Adidas pants and an Obama t-shirt
(thanks Kris!!!)
do not qualify as an outfit attempt--not considering I passed out in that exact same outfit 2 nights in a row. Yikes!
And finally, on Sunday (November 15th, 2009), I got to leave the house!
I got reacquainted with the everyday world and the civilian life within....
OH HAPPY DAY!!!
(I cannot even begin to tell you how refreshing and nice it felt to be back to normal and out in the real world again).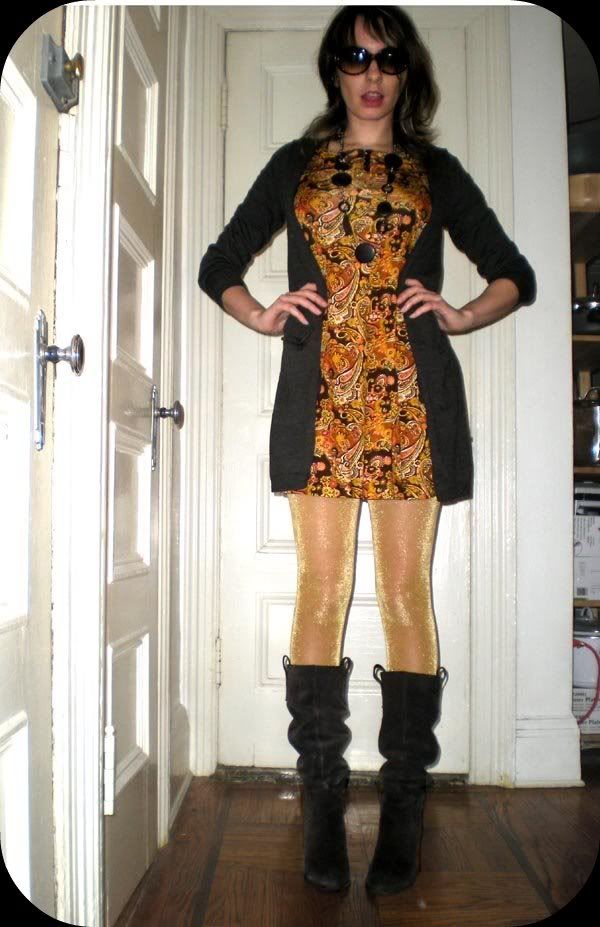 So I felt like putting on a dress!
Being a little girly...
Getting back into the swing of things with my outfits and all.
As I was getting ready, I got it stuck in my head that I wanted to wear one of my vintage dresses. In fact, I thought a vintage dress and my new Docs would be fun.
But somehow, that idea morphed into this....while the dress looks vintage inspired
(maybe the print and shape)
, sadly nothing about this outfit is vintage at all.
And where are those Dr. Martens?
*Brown printed dress-Beacon's Closet(brand unknown)
*Brown beaded necklace-Forever 21
*Gold sparkly tights-unknown
*Brown suede boots-Carlos Santana
So I don't know how it came to be, but that's what I wore.
What I wore for a Sunday at IKEA!
Delicious meatballs awaited...(Purchase #1)
And we convinced ourselves it was time for a new area rug in our living room. (Purchase #2)
I told myself a floor lamp by the computer is now necessary (Purchase #3)
And the best find of all....
this gorgeous string of stars....all lit up and dazzling in the boudoir (Purchase #4)
Side Note: I'm currently in the midst of a new bedroom project--I don't want to give it away, but these stars are definitely the first step in making my little dresser/vanity area pure bliss. They were exactly what I was searching for....you know when you have an idea in your head, and then you find THEE item you need and it all comes together from there? Yeah, that what these stars are doing for me.
Step 2 of project--going to Anthropologie for a little somethin' somethin'; ouch to the credit card!
Alright everyone...it's my first day back to work tomorrow after a week hiatus, so I need to hit the sack. Hope you had a great weekend!